Last Updated on Apr 14, 2021 | 11:44 by Tyler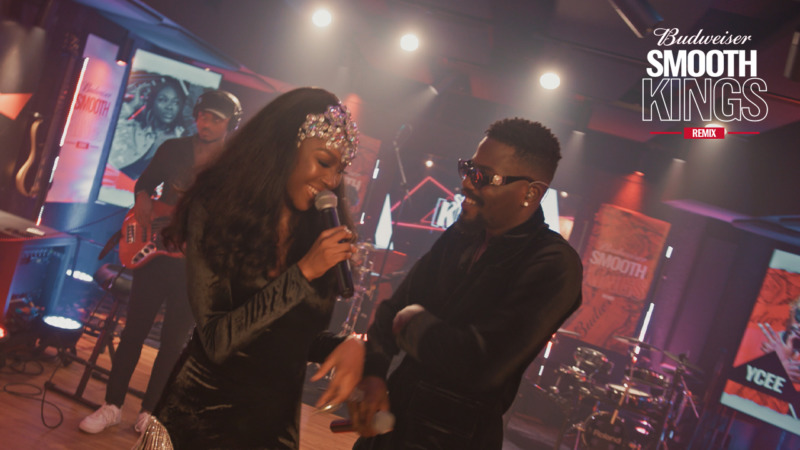 Nigeria's premium lager Budweiser, in fulfilment of its commitment to present its consumers with new and exciting things, has launched a music show tagged Budweiser Smooth Kings Remix show. The maiden edition is hosted by Ex-BBN Housemate Mike Edwards.
The first season of the show will run for a period of 10 weeks. Every week, 2 big Nigerian music artists would be paired to remix a Naija classic song and render the song in a live performance on YouTube. These songs are first cooked up in the Bud recording studio at Lekki, Lagos ahead of the live performances with the help of the official producer of the show.
This week's guests are, former Big Brother Naija Season 5 finalist and singer, Victoria Adeyele, who came to the limelight with the name, Vee and of course the one and only 'Omo Alhaji crooner', Oludemilade Martin Alejo, professionally known as Ycee.
The latter, Ycee revealed on the show that he was first launched into the spotlight by his song "Jagaban", back in the year 2015. Ycee was honest about not expecting that the song would go that far, and it was the first time he truly felt like he had 'Blown'.
Vee says it felt good to be accepted by the public, the very first time she dropped the song 'Show' and although her accent was evident, she was told that she sounded as Nigerian as she could have. Vee and Ycee get on with their task of performing the remix of MI's 2010 classic, 'Action Film', featuring Brymo.
10 years later, Ycee and Veeiye jump on and bring back to life the 2010 banger 'Action' film with an incredible performance. The most interesting part of this has to be MI watching a video of their performances and beaming with smiles.
He said, "YCee and Vee, you guys finished work, and it's amazing, and I am a little bit emotional. The song was amazing and I am honoured to be a part of it".
That marks the end of an exciting episode, do watch out for the next one.
[youtube]https://www.youtube.com/watch?v=dwVQw7b3MBQ[/youtube]