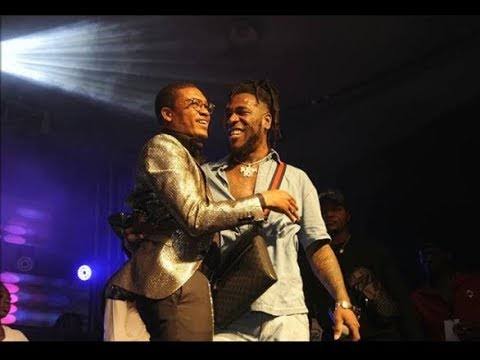 Grammy nominee, Burna Boy has narrated how Shina Peller inspired him to record "Ye" in the club.
In a recent interview, the "Dangote" singer revealed how Shina Peller inspired him to record his smash hit "Ye". According to him, after recording his "Outside" album he got into Quilox club and the owner approached him saying the producer Phantom just made a beat with his phone. Burna agreed to listen to the beat but after listening he got "hungry" and recorded the entire track in the studio at the club. The singer further revealed that it took him only 10 minutes to record the entire track.
"It's so funny. I had finished recording the 'Outside' album and I had just bought a Bentley. I was in the club every other day and then, I was in this club called Quilox, right? The owner is my friend, his name is Shina Peller. So, he just comes up to me and he knew I was gone (high) already. I was already f******, alright (scoffs).
"So he pulls up on me and was like, 'Yo, my guy (Phantom, the producer) just made this beat. I'm telling you, this is yours. I'm like, '"Bro, you have started this rubbish…' He made them put the beat on his phone… First, we go outside to the restaurant and he plays it in my ear – I got hungry.
"Everything was in the club; there's a restaurant right there, the studio is upstairs… it was a nice setting. So anyways, eventually we go upstairs and I start recording. The producer (Phantom) is there waiting… It didn't take me 10 minutes. I spent the rest of the time listening to it. That's how made 'Ye' in the club."
See the video below:
@burnaboy explains how the hit « Ye » was created .@bdotTM @ElliottWilson #rapradarpodcast ©? pic.twitter.com/HYCCAeDRPV

— Marc Heaven ??? (@MarkHeaven) 16 December 2019
---