According to a Twitter user, the tracklist to Chris Brown's forthcoming "Indigo Extended" album has leaked and yes, our dearest Davido is on it.
Y'all remember we brought you news last week about the proposed new album by Chris Brown just more than two months after her dropped his album "Indigo." Well, it now seems like we would be getting the album sooner than we are expect as the track list to the album just leaked according to a Twitter user.
There are 11 tracks on what is being seen online and Davido has been featured on a particular track titled; "Lower Body." Y'all also would remember Davido announced last week that there would be new music coming from him and Breezy this week but we aren't sure if it would be this track or not as we believe they have several songs together
See post below: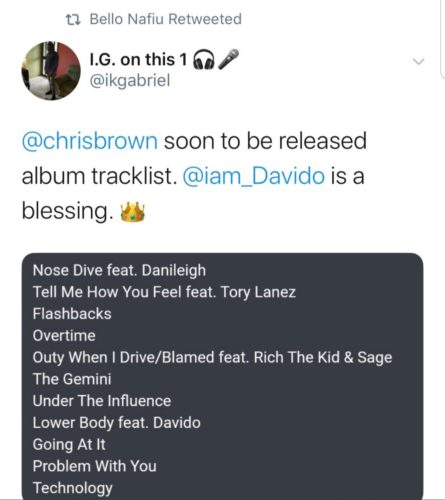 "Chris Brown's Incoming Album, "Indigo Extended" Track List 'Leaks' Online, Feature's Davido On Track 8″, 5 out of 5 based on 14 ratings.
Editor Rating

Rated 4 stars

Excellent
---
Chris Brown's Incoming Album,

Reviewed by:

Published on:

Last modified:
---
---