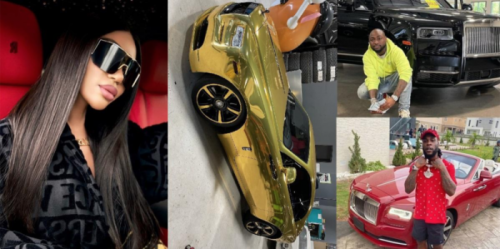 Cameroonian singer and Songwriter, Dencia took to Twitter to throw shades at Davido and Burna Boy for the second time after acquiring her 3rd Rolls Royce.
The Singer who recently added a new whip to her luxury garage shared photos and videos of her latest baby, a metallic chrome gold 2021 Rolls Royce. Sharing photos of the expensive car, she throw shades at Burna Boy and Davido once again.
Recall, Dencia took a 3 in 1 swipe at Burna Boy, Shatta Wale and Davido after photos and Videos of Davido's 240 million Rolls Royce hit the net. Dencia stated that Burna Boy, Davido and Shatta Wale were novices in the Rolls Royce business and they shouldn't be talking about Rolls Royce when people like her talks.
Gushing over her new Rolls Royce, Dencia stated she was the first African artist to have acquired a Rolls Royce in 2014. she threw shades at Davido and Burna Boy who she referred to as Niggas fighting over basic RR on the internet.
She made it crystal clear, it was her 3rd Rolls Royce and it was custom made just for her.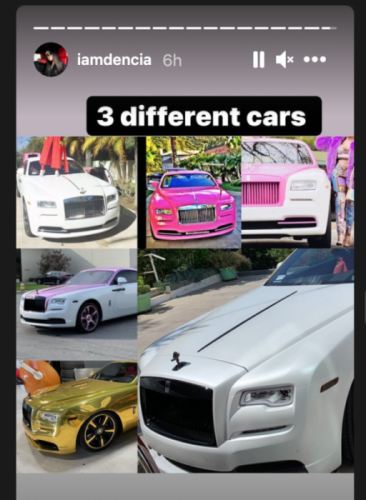 Dissing Davido and Burna Boy once again, She called them her Sons and added that RR wasn't an achievement like they made it seem.
See Her Tweets below
My new Rolls Royce is so fire ???These niggas on the internet fighting basic RR's !! This is a half a million Black Badge !! Now customized in metallic chrome gold ?? OIL MONEY ?!! Aiit Drops mic!! All these niggas is my sons pic.twitter.com/ug6w6doYmi

— Dencia (@IamDencia) May 31, 2021
The real Flex is I was 1 of the 1st to Cope a Rolls Royce wraith when it came out in 2014 car 1 !! I'm on my 3rd wraith ! ??? 1st wraith was $250k 3rd 1 is $500k !! What's the difference?? The year I guess ??the scam pic.twitter.com/TuHhpIYI2B

— Dencia (@IamDencia) May 31, 2021
Lol congrats for a car? It's just a car buddy not an achievement lol !! It's my 3rd Wraith !! https://t.co/wo9N7WULQc

— Dencia (@IamDencia) May 31, 2021