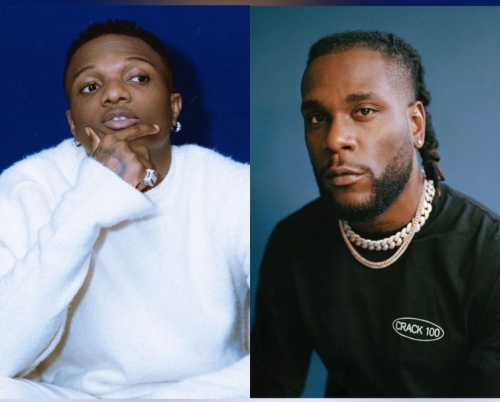 Burna Boy made History yesterday at The 15th Headies Awards. He won two 'major' categories; "Best Male Artist" and "African Artist of The Year".
This achievement by Burna Boy is being celebrated by his fans – Outsiders, making Wizkid FC and others wonder why Burna Boy won those categories when Wizkid won 5 big Headies Awards.
Wizkid won 'Song Of The Year', 'Album Of The Year', 'Best Collaboration', 'Best R&B Single', and 'Best Afrobeats Album'. Although Wizkid's Victory is mainly related or attached to Essence (feat. Tems), But still he is the highest award winner.
Music lovers felt with Wizkid's 5 big awards, he deserved the 'Best Male Artist' if not 'African Artiste of the Year'. This group believes Wizkid's achievement with 'Essence' both locally and internationally, should earn him this major awards and not Burna Boy.
Wizkid FC are on Twitter ranting about how Headies ripped Wizkid and gave the big awards to Burna Boy. They recounted how Kanye West acknowledged Essence as the best song in the history of Music and also how Wizkid is the most decorated artist with over 20 Headies awards.
Burna Boy fans are certain Burna earned his Awards and more. They also recounted how Burna Boy sold out 8 of the Biggest arenas in the World and how he is always tagged as the Best Performer in Africa. Also International artists like Diddy, Angelique, Ed Sheeran, Chris Brown and others have testified that Burna Boy's performance is out of this World.
Outsiders opined that if the award is judged on whose song buzzed the most Burna's "LAST LAST" definitely buzzed more than "Essence" which is gradually fading. When all is said and done, there can only be one African Artiste of the year.
So, Who do you think really deserves The "Best Male Act" and "Best African Artiste Award" between Burna Boy and Wizkid..???
View this post on Instagram