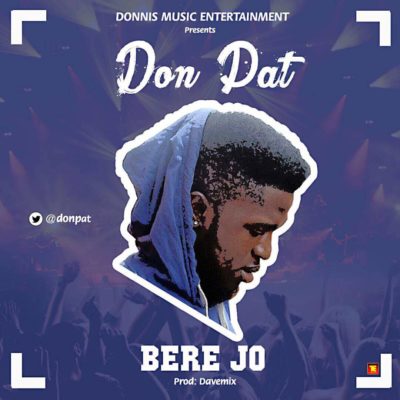 OKWARANOSHIE PATRICK CHIJIOKE popularly called 'Don Pat' hails from Ideato South Local Government in IMO State.
He is a first hand Lagos breed and a 4th year law student of University of Nigeria where he has distinguished himself in both academics and entertainment.
He is a dedicated  young man with the fondness for the art of music and has flair for other creative work such as stage performance, song writing and Acting.
He is the CEO of Donnis Music Entertainment (DME), a singer, song-writer, performer and an actor.
He started his music career in 2016 by a stroke of insight when he discovered that he has the flair for the art.
Due to his pinpoint talent, the young Artiste  was signed in by High Sound Music in July 2016, however, he left in April 2017.
In August 25th 2017 he officially started  his music label Donnis Music Entertainment (DME RECORDS), of which he is the CEO.  The record label has few hot tracks yet to be published  in which the hit track BERE JO is one of them.
BERE JO is Produced, Mixed and Mastered by a Lagos based Star Producer "Davemix" and have has numerous support and acclamation nationwide pending the release of the song.
Don pat has won several music local award such as; Best public performer Alaro Carnival 2016, Best music performer Oshodi talent show and many more.