Last Updated on Aug 17, 2022 | 03:33 by Tommy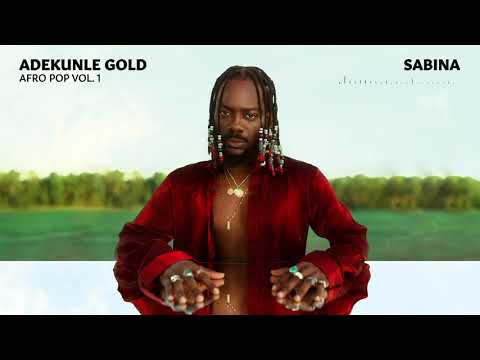 AG Baby, Adekunle Gold is back with another jam titled "Sabina"… Listen!!!
"Sabina" is a track taken off Adekunle Gold new music project, 'Afro Pop Vol. 1' Album. The record which stands as track 2 a follow up to the most loved track 1, 'AG BABY' is a love jam. ENJOY!
LYRICS
(Verse 1)
You used to be the girl I know
Now I wish I didn't let you go
I played myself like Nintendo
Now I gotta fight for you like Rambo
(like, like Rambo)
Please don't give up on me yet
I'm coming back for what I lost
Don't give up on me abeg
One more chance is all I want
Be nice to me be nice to me
I know I made a fool of myself
I go do better Sabina baby
Just give me one chance
(Chorus)
Sabina Sabina Sabina
Let me fight for you
Sabina Sabina Sabina
Don't give up on me now
Sabina Sabina Sabina
I wan't to fight for you
Sabina Sabina Sabina
(Verse 2)
My bebe My bebe
I like to know where you are
Mon bebe Mon bebe
n'as pas dit au revoir
Ma beru ma beru
Ooni sukunmo o
I want to make it right girl
Let us start again
Please don't give up on me yet
I'm coming back for what I lost
Don't leave me lonely o baby
One more chance is all I want
Be nice to me be nice to me
I know I made a fool of myself
I go do better
Sabina baby
Just give me one chance
(Chorus)
Sabina Sabina Sabina
Would you please believe me
Sabina Sabina Sabina
Don't give up on me now
Sabina Sabina Sabina
I wan't to fight for you
Sabina Sabina Sabina
Ah yoyoyoyo (yoyo yoyo)
Sabina na Ye! Sabina
Sabina
Sabina Sabina Sabina
(Sabina o, Sabina Babey e)
Sabina Sabina Sabina
Don't give up on me now
Sabina Sabina Sabina
(Don't you ever leave me)
(I will always want you)
Sabina Sabina Sabina ah ah ahn
Adekunle Gold – "Sabina Lyrics"