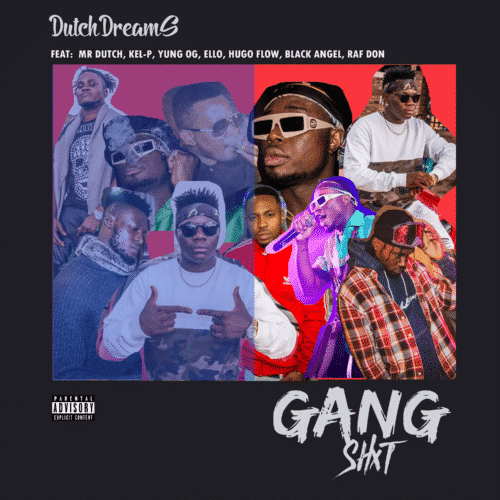 Following the recent drop of their power squad induced single, Dutch Dreams Records now presents the visuals for the classic afro-hip hop tune, "Gang Shxt."  
Led by the main man, Mr Dutch, the visuals for the recently released afro- hip hop single, "Gang Shxt" are officially out. Mr Dutch breaks the ice at the beginning of the visuals as he sings, "It's a whole lotta gang shxt" with pretty ladies vibing along to the sounds of the music.

Each and every individual artist featured on the song gets a fair chance to shine as they drop their lines with a dope, graphic strap line popping up as an intro to each one of their verses.
Kel-P jumps in to deliver his verse, sitting next to a piano keyboard as a beautiful lady dances next to him. Yung OG and Ello follow with each one of their performances, one shot indoor, at a luxurious house while another is set outdoor, at a smoky, basketball court area surrounded by ladies and some of their homies making an appearance in the shot.
Hugo Flow and Black Angel step up thereafter with that Afro-pop feel, singing along and throwing air punches as a group of kids join in the fun. Raf Don wraps up showing off some dance moves as he spits, "Dutch Records, yeah, we're number 1, you know we can't slow down!" Truth be told, there's definitely no slowing down on this one.
Call up your gang and check out the new music video:
"Gang Shxt" is out and available for download: https://fanlink.to/DutchDreamsGangShit 
Stream video below
[youtube]https://youtu.be/CtWjEn95GxQ[/youtube]