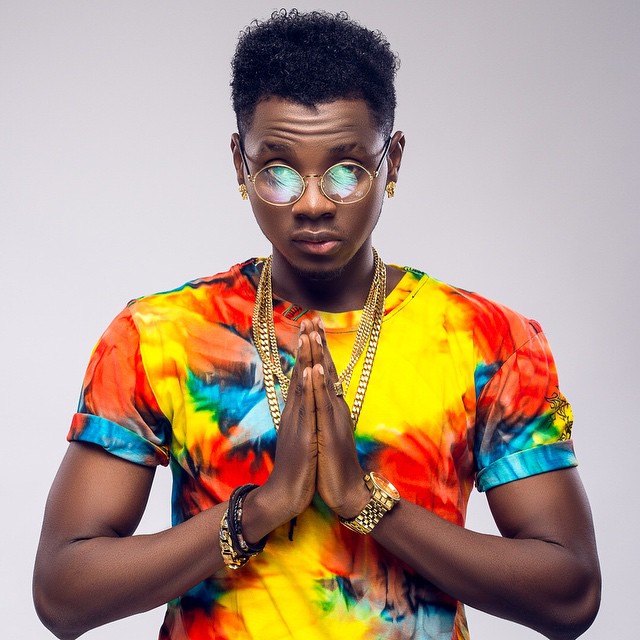 Nigerian Entertainment Awards 2015 nominee, Kiss Daniel (real names Anidugbe Oluwatobiloba Sikiru Daniel), is one new face we can't seem to get enough of. Best known for his smashing hit song "Woju", the water engineering graduate of Federal University of Agriculture, Abeokuta, has become music sensation in just two years of his sojourn as a professional artiste.
Signed to G-Worldwide Entertainment record label, the budding artiste has in his repertoire, 4 singles; Shoye, Woju, Woju remix ft Davido & Tiwa Savage, and Laye. Good looking and chubby-cheeked, Tobi, whose's dimples (said to rival Davido's) fetched him the stage name 'Kiss', has amassed a huge fan base and if you are one, here's 4 facts you need to know about his upcoming debut album:
1. Album drops December
Following the nation-wide acceptance of Woju by both young and old, it soon became apparent that Kiss was one new act to watch out for. First he released Shoye, then he gave us Woju which he backed up with a video. Not long after, he dropped the remix to Woju also with visuals. With his latest single Laye currently enjoying massive airplay on both top TV and radio stations, Daniel's next move is to drop his debut album, much to the delight of his fans. The singer has revealed December, 2015 as the month his album will be released. Good news right? There's more…
2. The album name has a very weird title
While we can now put a time frame on the release of his album, next thing is to find out the name right? Weeeelll… there is in fact a name, a very weird one at that! Apparently the body of work won't be getting a regular title but rather, something unusual. What is "weird" for Kiss Daniel? ou'll have to wait for it. However, as we wait, allow your imagination run with you and guess the album name.
3. A 17-track album + It won't contain Woju or Laye
Wait… what?? Lets leave the fact that his album will be housing 17 tracks for a minute and fast forward to the exclusion of Woju and Laye. Why??? I mean, I get the logic behind this but does he, really? Woju happened to be the song that brought him to prominence and for the fact that he remains in the ranks of fast rising acts (unless something out of this world happens between now and the date of release), it's only normal for him to feature his biggest song on his debut. Just so he knows, having Woju on the album contributes to being a deciding factor on whether or not to buy his album… in my opinion. From another perspective, not having Woju and Laye on his debut might mean that he's finally moved on from there and would require his fans to do same. Question is, do we really want to? And would the other songs be impressive enough to make us do so? Only the album (and time too), will tell.
4. Will feature 7 collaborations
As is a norm for almost every album out there, there will be collaborations on Kiss Daniel's album albeit just 7 of them, with artistes the likes of Tuface, Asa, 9ice, Wizkid and label mate, A1shugaboy.
That's just 5 yeah? The singer, currently on a UK tour, is keeping us in suspense about the remaining 2 artistes. I'm thinking international eh…? Lets wait and see.
I'm pretty sure you got more than 4 facts from us!!