Talent singer, Sean Tizzle Starts the new year (2021) on a big note, this with the release of a new EP titled "Where You Been".
Sean Tizzle who has been off the music scene for months returns to share 'Where You Been' The EP. Off the EP he also dropped a new music video for the track 'Chargie' this to push the track as a single (You Can Check That HERE).
Nigerian afropop singer, Sean Tizzle rose to stardom in 2013 with his smash hit single 'Sho Lee' and thereafter released 'Mama Eh' which increased his audience. In 2014 Sean dropped his debut album – The Journey, a music project that earned him the Headies Next Rated award same year ahead of Burna Boy, Cynthia Morgan & Others and also placed among the major artistes in Nigerian Music Industry.
The Journey album is a 14 track project which recorded more hits for Tizzle, Songs like; 'Perfect Gentleman', 'Take It', 'Kilogbe', 'Loke Loke' ft. 9ice, 'Igi Orombo' ft. Tiwa Savage, 'Could This Be Love' and 'Komole' added to his record of Hits.
On Feb. 3rd 2017 Sean Tizzle returned with another body of work, this time around an EP titled Moving Forward. The EP complied of 7 original songs from Sean Tizzle, also features top African artist like Davido, Iceberg Slim, Dax Mpire and the EP was mixed by Grammy Award Winner buck 3000 all tracks Produced by Blaq Jerzee except Roll Up by Mr Kamera. Moving Forward the EP includes tracks like; Thank you, Telephone man, Roll up, Dide, Alhaji Abass, Arawa ni.
This new year 2021, Tizzle came back with a new EP which he title 'Where You Been'. The EP is a 5 song music project with only one featured artiste; Wyclef Jean, which runs for 13 minutes (Playtime).
Peep below for Where You Been EP Track List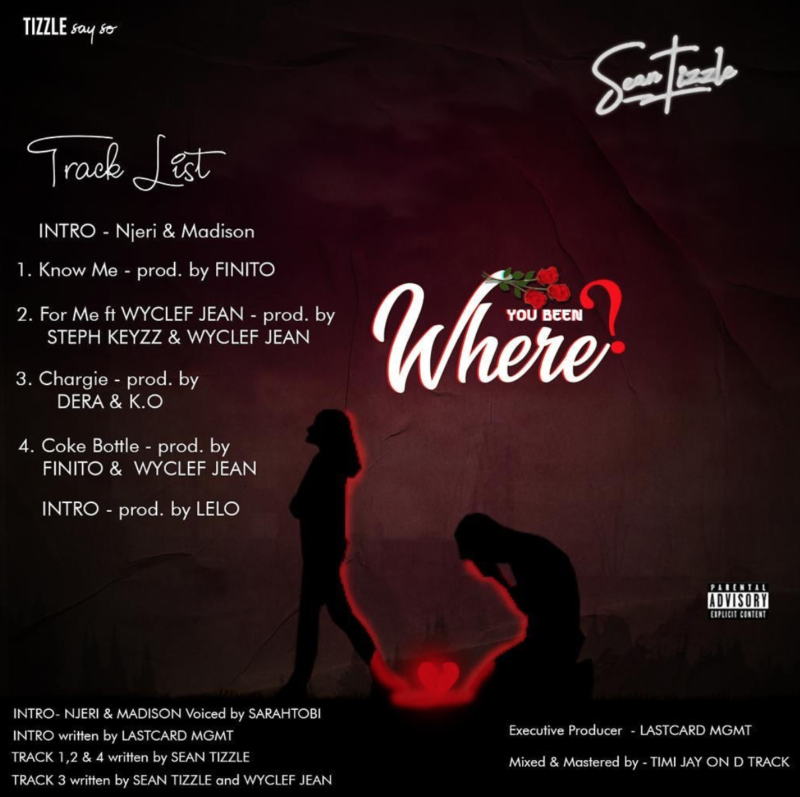 While sharing this project Tizzle gave big shouts to all the talented people he worked with, those that contributed to – 'WHERE YOU BEEN' EP.
"S/O to @wyclefjean Speechless,
S/O to @finitoszn Thanks for Track 1 &4 !
"coke bottle & know me" you defined music on those tracks !!! GOD bless you.
S/O to @stephkeyzz watch out for this young chap peeps !!! Thanks for Track 2 "FOR ME" ft Wyclef Jean you're a young Legend God Bless you.
S/O to @deratheboy @beatssbyko hmmmm CHARGIE ! International sound !! Both of ya are Geniuses !God bless you.
S/O to @sarahtobi._ for the INTRO-I LOVE ! God Bless you
@officiallelo Thanks for the Intro U bad.
S/O to @Officialtimijay For the mixing&mastering pure clear sounds !!! God bless you
S/O to @taleenondamix My studio Energizer, God bless you
S/O to @headsmusic for the incoming journey God bless you
S/O to @lastcardmgmt, God bless you for the whole execution!FAMILY !"
And then stated that, GBEDU TI DE DE DE ! TIZZLE Say So
Listen and Enjoy the EP below