Tems Sophomore EP titled "If Orange Was A Place" Is Out Now! Listen HERE.
The Leading Vibe (Tems) releases the If Orange Was A Place EP, Today September 15, 2021, Just as promised. After a year filled with highlights—including a critically acclaimed debut EP, 2020's 'For Broken Ears', and hit collaborations with Wizkid, Justin Bieber ("Essence") and Drake ("Fountains")- Nigerian alté R&B singer-songwriter Tems leans into a newfound sense of creative freedom on her sophomore EP.
"I have learnt to let go and just live life and just do what comes naturally to me," she tells Apple Music. "It has helped me find a new freedom of expression and a new vibe that isn't based on past experiences but present moments."
Her Sophomore EP- If Orange Was A Place consist of 5 tracks and one guest act; Brent Faiyaz. All tracks produced by Guilty Beatz except track 3, which was produced by Jonah Christian.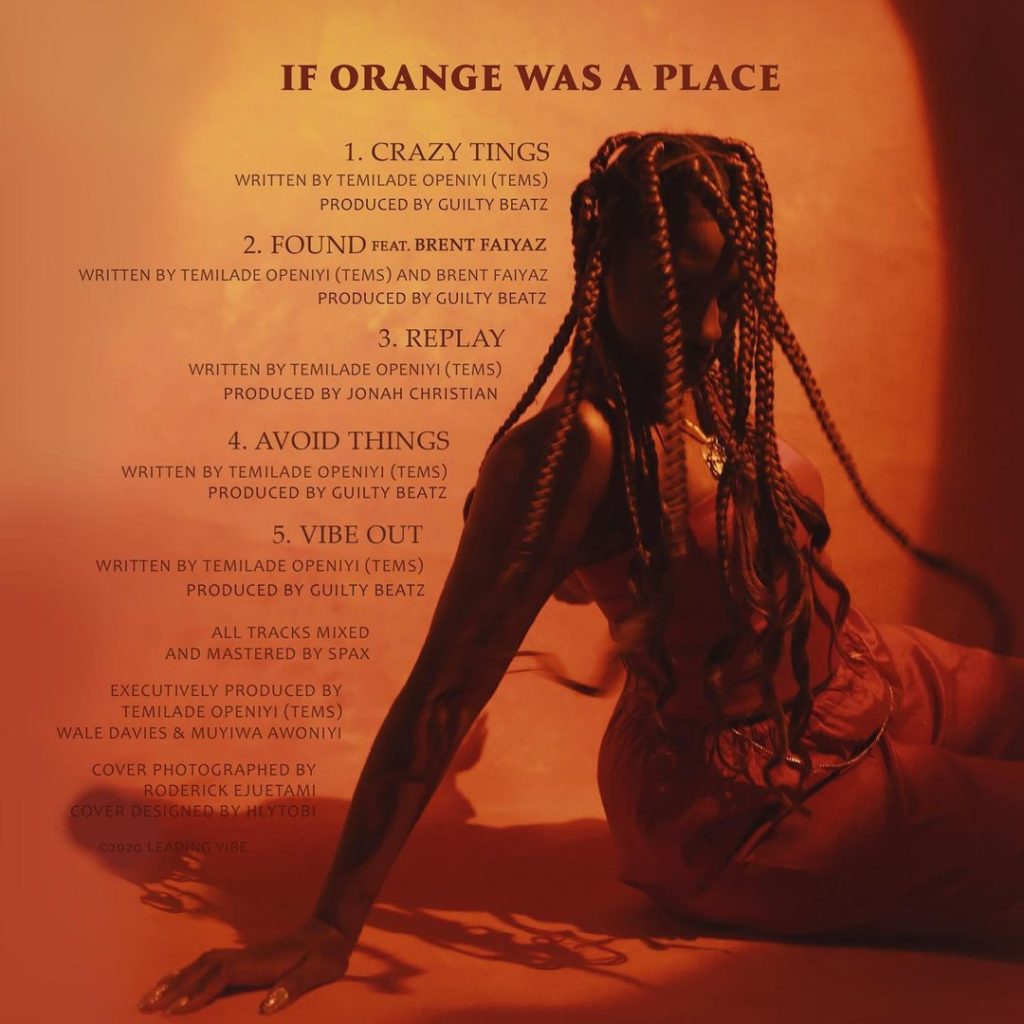 Through its five tracks, If Orange Was a Place creates ample space for Tems' distinctive voice to shine as she navigates through themes of finding inner peace and staying true to self. "Orange is a vibe," she explains. "It is the feeling of sunset and the sweetness of an orange. And when I think of those songs, I am transported to a different place where everything is warm and sweet."
Lyrically and sonically, Tems (Temilade Openiyi) represents an alté sound driving a new wave of African R&B—one centred on mood, expression and originality, and one less concerned with trying to sound too familiar.
Below, Tems shares a snapshot of the "If Orange Was A Place EP", track by track.
Track 1. "Crazy Tings"
"This song was inspired by the crazy amazing things that have been going on in my life, and it was made in Ghana. The beat was played to me by GuiltyBeatz and I was surrounded by orange light and alcohol. The vibes just flowed in afterwards."
Listen!
Track 2. "Found" (feat. Brent Faiyaz)
"I was in LA with Brent; he is such an amazing artist. He always knows how to bring a different perspective. The song is really about releasing different thoughts in my head and reconciling them with my truth."
Listen!
Track 3. "Replay"
"This song was just my rebel side coming out. Again, this was just me expressing my thoughts on opinions and all types of energies I encounter. It's me reiterating who I am. The song was produced by Jonah Christian."
Listen!
Track 4. "Avoid Things"
"I am someone who doesn't like unnecessary disputes that lead nowhere, and 'Avoid Things' is about my to provide solutions, but being met with resistance, madness and crazy things."
Listen!
Track 5. "Vibe Out"
"'Vibe Out' is the setting of the sun and getting prepared to move. It is what I call the 'ginger' and the burst of dance…the sunset dance."
Listen!