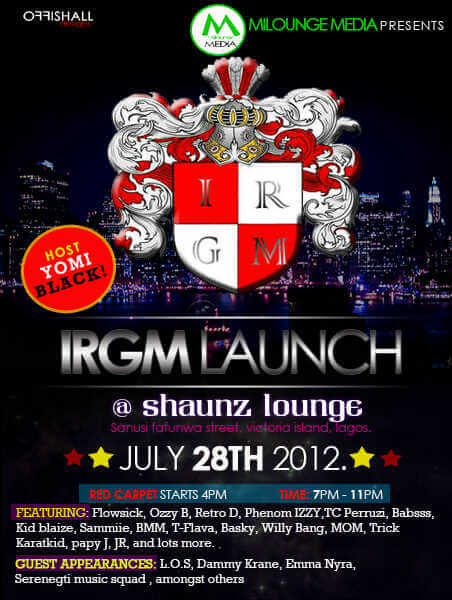 The Official Launch of IREPGOODMUSIC is brought to you by Milounge Media and supported by top media houses and entertainment organisations.
The Launch is scheduled for this summer, July 28th and the Venue is Shaunz Lounge. Timing of the event is from 7pm prompt to 11pm, Red Carpet starts by 4pm and then a Glow in The Dark After Party tagged #EXODUS.
There is a long list of Artiste's scheduled to perform that night and amongst them are
Phenom, WillyBang, Flowssick, Ozzy B, Retro D, Izzy, TC Peruzzi, Babsss, Kidblaize, Sammiie, BMM, T-Flava, Basky, Peejay, Patoranking, LKO, Keenah, Buky Adeshina, MOM, Trick , Papy J, JR, Dkoy,OpeTeflon, Samsmooth and a lots more.
Guest Appearance: LOS, Dammy Krane, Falz, Emma Nyra, Peter Clarke, Hakym d dream and the Serenegti Music Squad and many more
There is also going to be a little showcase from the X&O's , Clivecicero, B.I.C Nation, House of Mohdha, NolaBlack, Varcity, Moda Giovani, Leslie Holmes, VK3K, Lazy Chimps.
SIDE ATTRACTIONS: The Waver Dance Competition finalist would battle it out for the grand prize of 500POUNDS 125,000NAIRA.
Best Dressed VIP Ticket holder would win a cash prize of 50,000NAIRA.
Kenya/US based female act VICTORIA KIMANI would be celebrating her birthday at the after-party of the #IRGMLAUNCH tagged #EXODUS.
Free shots of Liquor for Ladies all Night.
Birthday Soiree of IRGM's Sandra Adeyemo
The event would be hosted by
Yomi Black
VENUE: Shaunz Lounge, Murphiz plaza, Sanusi fafunwa Victoria Island.
TIME: Show is scheduled for 7PM through to 11PM and Red carpet starts by 4pm
Tickets would be on sale a month to the event and the price is set at
REG: N3,OOO
VIP: N5,OOO
VVIP: N8,OOO
TABLES – 8OK – 12OK
Access to the after-party would be granted to only VIP, VVIP Ticket holders and also those who purchased Tables.
SUPPORTED BY KnightHouse, Soundcity, Liquor Music, Gidi Groove,Party Works, TooXclusive, GidiXclusive, GoldStrings INC, Coded INC, Kollertunz, Serengeti Music, Music Chief, Moon Walk, MuzicMindz, Playmode mag, Naijareview, NaijaHype, Magic Hype, Gidi Gang.
COVERAGE BY: IRGM Montage, Flash Photography, Mix Mag, Moonwalk Empire, ROCK Mag, ELMO, Sound City.