Last Updated on Nov 27, 2021 | 10:16 by Eniola TX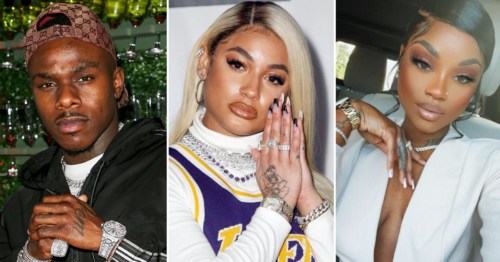 Moving on really fast, are we??? It looks like DaBaby may have moved on from his debacle with baby mama, DaniLeigh that blew up social media last week.
Videos from Baby's Instagram show him relaxing under a palm tree, chatting with followers about eating stingrays, and it looks like his other baby mama, Meme, may be with him.
@its_onsite on IG shared a comparison video of DaBaby's story beside Meme's, which also has the same beautiful palm trees in the background. A place for a playa, she captioned a video of her snacking on something while wearing oversized sunglasses and listening to some good music,  "Super High" by Rick Ross, featuring Ne-Yo.
See post:
View this post on Instagram
We earlier reported that DaBaby called the cops on his Baby Mama, Dani Leigh, and her 3-month-old baby.
The rapper responded to the accusations in a short video that went viral like the speed of light. Baby tried so hard to calm his fans down, irrespective of the tantrum that occurred in the live video that revealed his fight with DaniLeigh.