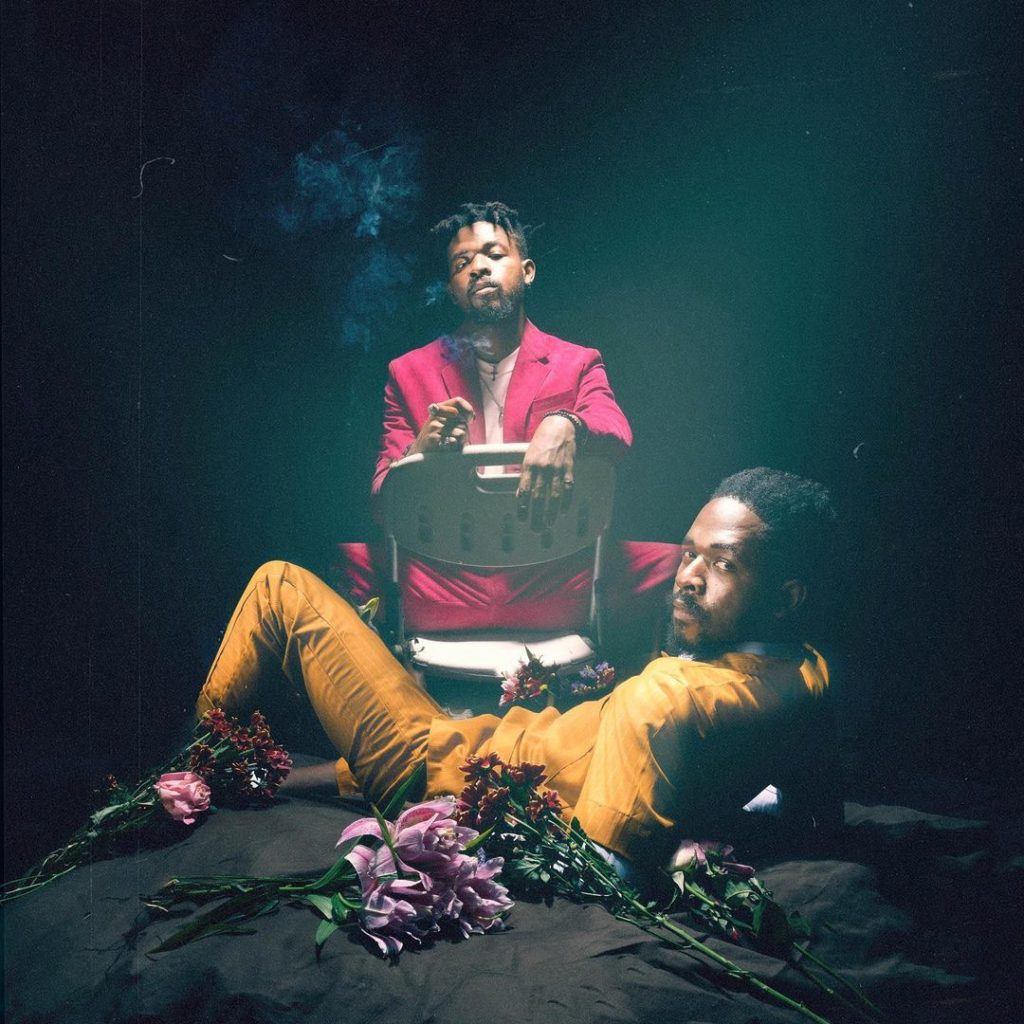 Multi-talented artist, Johnny Drille dropped his debut album titled "Before We Fall Asleep" on the 3rd of September, 2021. The project which is on popular demand, is currently among the Top 5 albums on Apple Music.
Tooxclusive is here to share with you the viewers and music fans how JD created this extraordinary Before We Fall Asleep album, A Masterpiece!
According to Johnny; "I've questioned everything, the reasons why I make music, the joy and happiness that it brings. For the first time in my journey as a musician and for the longest period I struggled to find excitement and fulfillment in the music I was creating: the series of writer's blocks, inner emotional sufferings, industry pressures, and an annoying feeling of unworthiness were taking a toll on me. I tried to hide these emotions from social media but if you looked close enough you could tell. There was something wrong, something was missing. My devoted fanbase I'd built over the past 8 years had loved and stayed committed to me despite not giving them the album like they more than deserved. Maybe I just wasn't ready.
Love to my team, my family, my friends, my loved one who all stayed believing and encouraging me to push through and at perhaps the darkest moment of my life I found a spark, of hope, that spark became a fire, and that fire is burning bright in me, and now I feel alive again. I was down but God raised me, I've learned and I've grown, I've reached depths I never thought I could.
This album is SPECIAL, it is a piece of my heart in words and letters written with my tears and laughter, my anxiety and insecurities, and more importantly, my LOVE. This album is for a SPECIAL person, YOU.
God knows I owe so much to everyone involved in this project, the time, the love, and the dedication to make this so perfect. I'm so glad it was all worth it.
Big love to all the featured artistes, big boss @DonJazzy, @Ladipoe, @AyraStarr, @__chylde , @Cillsoul, @kwiteemusic, LCGC, @_danjumah, and @official_stylplus.
Massive love to the most amazing producers I worked with, @wilsonmuzic, @thisizlondon, @burssbrain, and the legendary @finkmusic. Thank you for such brilliant music"
All tracks were produced by Johnny Drille except; Track 2 (Loving Is Harder) – Produced by Wilson Muzik, Track 8 (In the Light) – Produced by London, Track 11 (Lost In The Rhythm) – Produced by Burssbrain and Track 12 (Sweet As A Mother's Love) – Produced by Fink.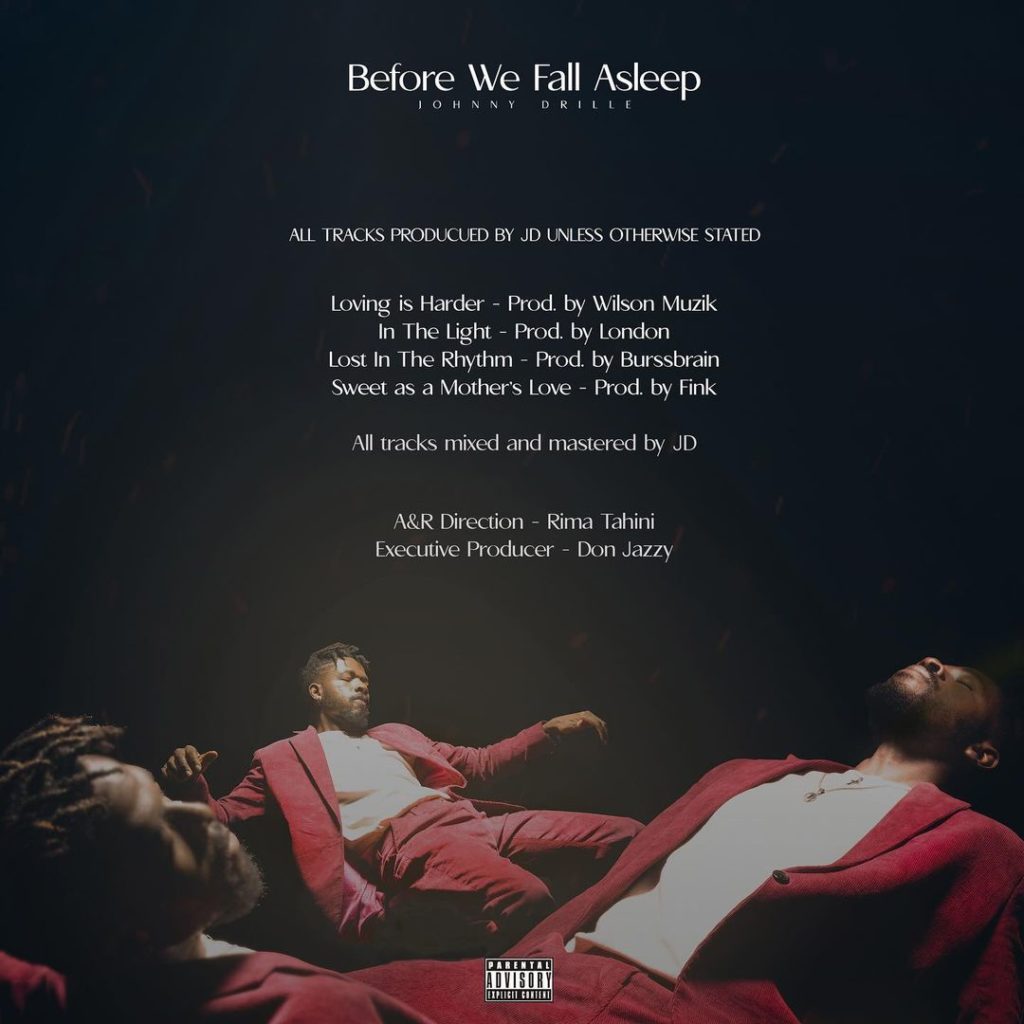 Myself, @saintmilar, and @cillsoul wrote most of the songs on this project and more to come. Thank you for the many days and nights trying to perfect every single word, melody, and lyric. See the art below for full Writers credit.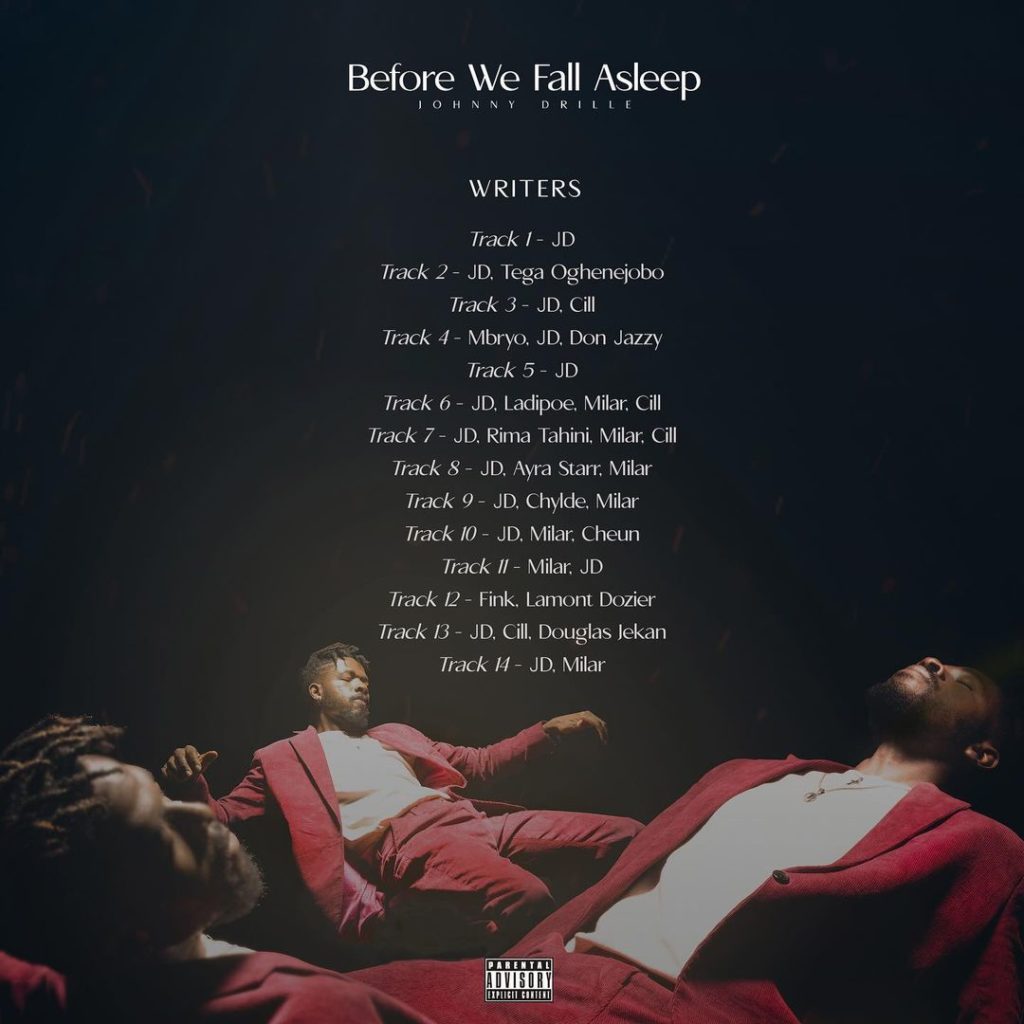 Also see additional vocals and strings credit…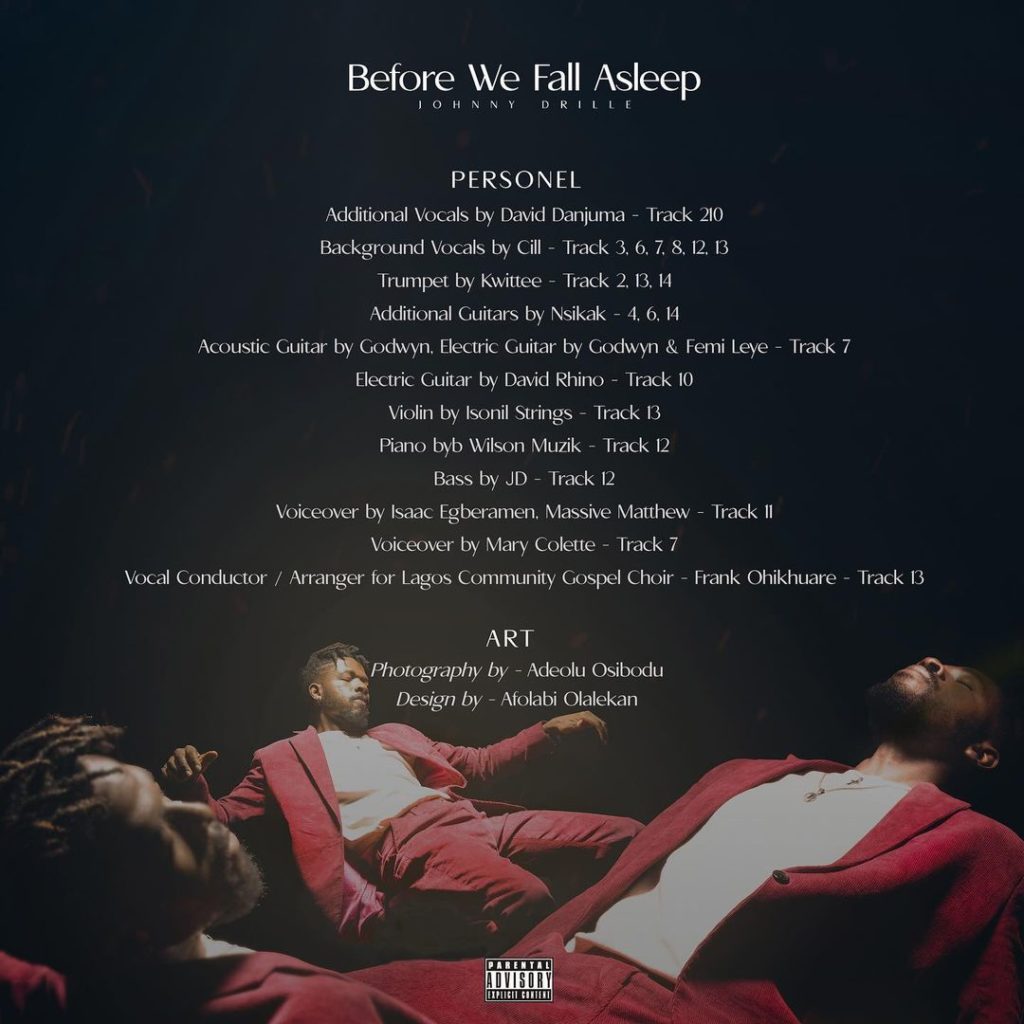 In JD's words; We made magic!!!