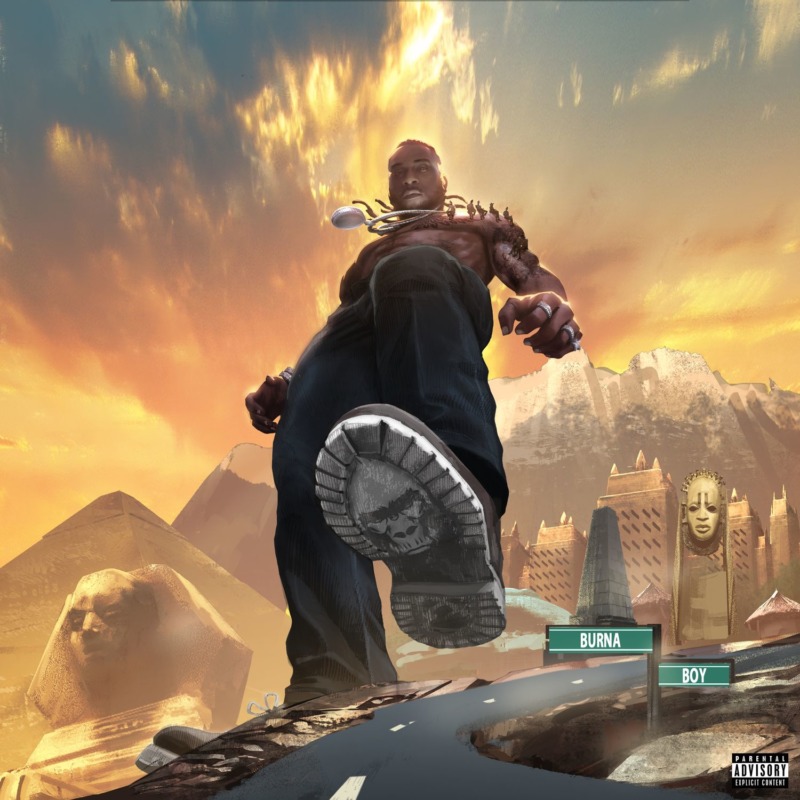 Burna Boy Might Take The Grammys With "Twice As Tall".
Burna Boy & Grammys…. Burna is no doubt one of African's leading Artiste right now and after the release of his 2019 album, "African Giant" which got him Nominated in the 62nd Grammys Award for World Music Category in January 2020, one would think he would slow down. Sure, there are many reasons artistes consider before going back into the studio for another album but not Burna Boy. Losing the opportunity to win the award which was won by the legendary Beninese singer "Angelina Kidjo" hasn't stopped the Odugwu from eyeing the prize.
Well, while Burna Boy can't contest "Angelina Kidjo" greatness because he actually featured her on a song in the said album and has publicly praised her many times which she did in kind after taking home the award in January, he hasn't given up the fight and sure he wants to take home the trophy even, it means beating her to it next year.
Now, 'African Giant' was a good album and had potentials for winning a Grammy, but it came short in amassing enough world sounds and elements in its production which I think might have been the reason he didn't win the award. You have to understand that while Afrobeat is one sound from Africa, there are a lot of other sounds across Africa which is a criterion for nomination under the world music Category.
It's not the fact that he got nominated for the Grammy Award or the fact that he is being recognized far beyond the shores of Nigeria and Africa that makes one wonder if Burna Boy indeed could win a Grammy if given another chance rather it's the focus that he has put into winning one that has fans and critics wondering if Truly, he can do it.
We have seen athletes and musicians in the past who had achieved and done great feats in their career just from sheer will and perseverance. Lil Wayne went to be the greatest rapper alive and multiple Grammy Award winner in the late 2000s just because he is wanted to be one. Christina Ronaldo has won a lot of soccer titles just because he aspires to and now Burna is on a streak to win this award, and he wants to be the first Nigerian/African Urban artiste to take one home.
So, he dropped another album in August 2020. The album is titled, "Twice As Tall"…a fellow up to the 2019 "Africa Giant" which is nothing short of what you would expect for someone who is aspiring to rise higher than his previous efforts. Everything from the title of the album to the production and features is targeted at two things; winning a Grammy and breaking the US & UK market while not compromising his style or message.
With features from Diddy, Naughty By Nature, Chris Martins, Sauti Sol, Youssou N' Dour Burna Boy went farther than expected which is one good reason he is viable for getting nominated again in 2021.
Now there are many reasons he might not win the Grammy Awards next year but there are also a lot of good reasons he can get nominated and win.
For starters, it Encapsulates A lot Of African Mainstream Sound: Burna Boy did his homework this time to make sure the production wasn't centered on Afro-Beats alone but had in mixed Afro-Beats, Hip-hop, Dance-Hall, World, Pop, EDM. While all the sounds mentioned here are not indigenous African, they happen to be the main components in African Mainstream productions these days.
Secondly, Calculated and Planned with one sole aim (to win the Grammy): Burna Boy interviews, tweets, and publicity ever since he lost the Grammy in January 2020 have been on how he would do it again and make it right. He even claims he is bigger than other Nigeria urban artiste, and that he is the true leader of the new wave coming out of the country. The album was well calculated from featuring Diddy in the intro of the Album to having Chris Martins sing the chorus of the revolutionary, "Monsters You Made" record. It points to one thing Burna Boy wants to break the record and take that Grammy to Nigeria.
The Proximity of Connecting Blacks (Both Africans and Non-Africans) Worldwide to a Relatable Sound: Hip-hop used to be a black thing but not so much these days. It can't be claimed by Africans, so that leaves blacks all over the world with a sound that they can all relate to. In Africa, there are so many sounds and style of music you, sometimes, can't relate to musically because what is being heard across regions differ, making it even more difficult for other blacks outside Africa to connect back to the motherland, musically. The Caribbeans are more into Dance-Hall, Americans into Hip-hop, Europeans are more into Pop, EDM and so on. Although Burna Boy did a fine job by trying to put all these different genres into perspective, he is not yet there. Taking urban music as the centerpiece and focus we can say he almost there.
The Album is Comprehensive: The album is not bad at all. "African Giant" had a lot of hit records on it but "Twice As Tall" has a good amount of quality music. The difference is this, 'the album is cohesive'. It is a campaign to say, and he delivered his idea quite well.
The sounds are quite distinctive too compared to other sounds across the world: Burna Boy has a unique style, and it's evident in the production of the records on the album. The album sounds like no other. It's unique and authentic.
Consequently, the Production Is Articulate: the sound, the mixes and drive of the album is on point. The beats are well picked, the mixes are tight, and you can say every song on the album has got its place.
How much this list will affect the overall consideration for Burna Boy Winning the 2021 Grammy Award is another thing because as much as we love him to win a Grammy which he deserves for all the effort he has put into the project it's to be noted that the Academy in charge of making this call have their rules and sometimes these rules don't adhere to the popular consensus.
Not as perfect can be and definitely not much better than "African Giant" but the effort may be worthwhile. That we hope for but until January 2021 when the Awards would take place we can only enjoy the music for what its worth and have our fingers crossed hoping Burna Boy brings home a Grammy this time around and can indeed make the self-acclaimed African Giant a true leader and pioneer of the era.
Burna Boy & Grammys