It's Thursdays and of course time for some throw back photos!!!!
Today's pick is none other than that of singer Kcee, former band mate, Presh and brother E-Money, way, way, way, way, way…back, I really want to believe.
The photo has since caused some sort of commotion in his comment section and we just must share with you guys.
The Romantic Call crooner, is seen spotting some sort of braids, really baggy shirt and pants and of course faded out can't be called bling.
See photo and some of the comments: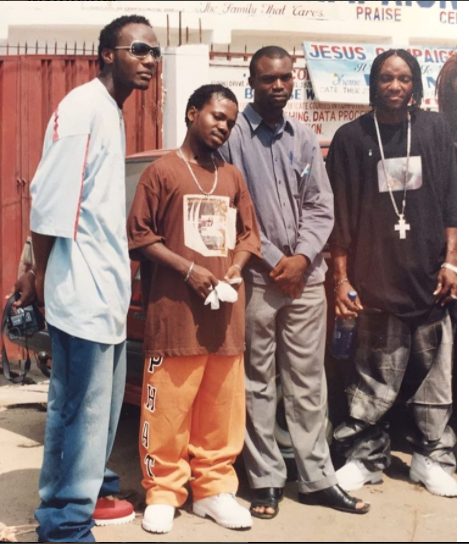 charm4ealyour bling bling chain eh. God that did it for you and @iam_emoney1 will do it for us In Jesus Name, Amen
blueicerosyJeez
biggtoffI tap into your blessings
mirome36Amen
davidumeriE don tey were KC crase
ambassadors50Jesus christ oooo ??????????
oladipupookikiola God bless d person that invented pencil trouser…so funny
gesilaiyefaDis your baggy trouser no be here ooo
wizladezeOmo c E money!
xdogginitCommoooon Yoh. Hip hap Hip hap. ???