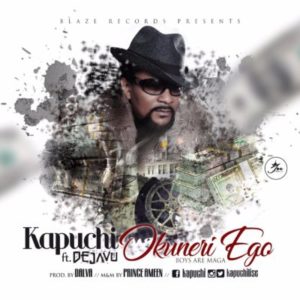 Kapuchi a London based Afrobeat Star drops his next single titled Okuneri Ego (boys are maga)which follows on the heels of the success of his last single titled Egoyibo which was a banger within the London Afro-Carrebean music scene.
Kapuchi who is also the Founder and CEO of Blaze Records London teamed up with his old Pal and maverick London based Afrobeat producer, Mr Dalva of Dalva Empire to produce this beautiful blend of Afrobeat and high life.
The song is groovy and the lyrics is laced with mild humour and was mixed and mastered by the highly talented Prince Ameen. Kapuchi is promising his fans that this is one of many hit songs lined up to thrill and entertain his fans.
Enjoy it below.
Kapuchi – Okuneri Ego Ft. Dejavu

"Kapuchi – Okuneri Ego Ft. Dejavu", 5 out of 5 based on 1 ratings.
---