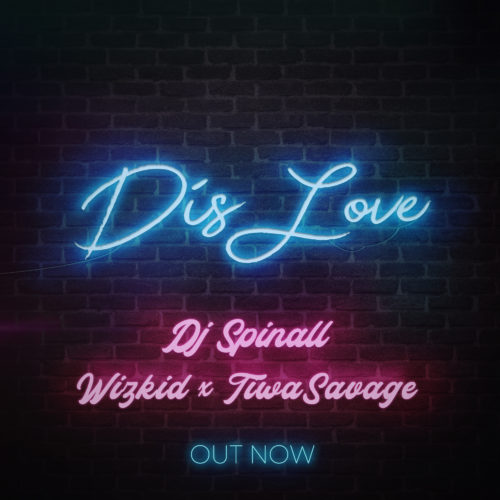 DJ SPINALL IS BACK WITH SUMMER ANTHEM, 'DIS LOVE' FEATURING WIZKID AND TIWA SAVAGE
Multiple award-winning disc jockey, DJ Spinall returns with a hot new single, 'Dis Love'. The song featuring Star Boy, Wizkid and the sexy, Tiwa Savage is set to become a summer favourite.
The track gives off an afro-beat vibe with elements of raw reggae. The two voices create an infusion of brilliant melodies that complement the bouncy beat produced by Spellz.
Listen and also catch the Lyrics below
"Dis Love" Lyrics

Siddon Pon it
Fine girl Siddon Pon it
Every other day
You go dey siddon pon it
Top boy
Yah

Tell me baby girl how you dey o?
Baby tell me make I know how you dey o?
Baby tell me how much I go pay o
And we go fly go anywhere for holiday o
This love na walangolo
This love na wantinti
Make we play like we dey movie o
That kind play wey you go dey play mummy oo
Mummy o mummy o Mummy ooo
Girl na me go dey play Daddy oo
Girl if you be baby I be nanny o
See as you fine like Agbani o
Sho ma wa
Sho ma kpalangolo, oooo oh
Wa
Sho ma wa
Duro le, ooo oh
Baby make I dey where you dey
Come make I show you special loving
Sho ma wa
Sho ma kpalangolo, oooo oh
Wa
Sho ma wa
Duro le, ooo oh
Baby make I dey where you dey
Come make I show you special loving

Anywhere you dey
I go dey o
Long as I dey with my baby o
Wetin them no know them go hate o
Kiss me baby make them vex o
Carry the matter for their head o
Please me baby make I rest o
Nobody do me like you do
Kiss me baby make them vex o
This love na walangolo
This love na wantinti
This love na walangolo
This love na wantinti

Baby girl I love you
Sit down pon it
Baby girl come whine up pon it o
I know you love this beat, sweet melanin
Oh you could be my sweet Seniorita
American girl come whine up for me
My Jamaican girls come whine up for me
Ojota girls come whine am for me
My Caribbean girls come burst up for me
Sho ma wa
Sho ma kpalangolo, ooo oh
Wa
Sho ma wa
Duro le, ooo oh
Baby make I dey where you dey
Come make I show you special loving

London boy come give it to me
All my Lagos boys them spend it on me
Jamaican boys them jam it for me
My American boys them swag it for me
Yea
Sho ma wa
Sho ma kpalangolo, ooo oh
Wa
Sho ma wa
Duro le, ooo oh
Baby make I dey where you dey
Come make I show you special loving

This love na walangolo
This love na wantinti
This love na walangolo
This love na wantinti
DJ Spinall
Give it to me
Give it to me
Give it to me
Spinall
Wahgwan
Spellz Spellz