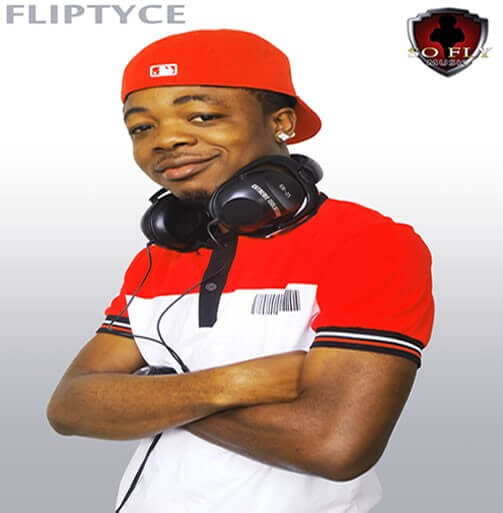 Folorunsho Busayo Philips "fliptyce/flippy" is the founder of Fliptyce Entertainment and So fly music company group.A music producer, songwriter, singer and Geologist. Born September 23rd in the 80s and raised in Ondo State, fliptyce's love for music and arts started at a very young age, He was with the choir through out his primary and secondary school days. He started music production early 2000.
Just like Akon uses "konvict" as his signature tune for his productions, u will always hear SO FLY in most of fliptyce production.His first major hit production was OJUTIWON for Danny Young the first artiste under his record label fliptyce entertainment which is now So Fly Music group,  while in the university (UNAD) studying geology and applied geophysic, fliptyce also focused more on entertainment, as he organizes big shows and events in his school .
November 2007, The Nation newspaper interviewed him as one of the students on entertainment run. He developed his sound engineering and production skills while he was in the university.He will be doing his masters degree soon
He registered his first record label "FLIPTYCE ENTERTAINMENT" during his final year in school, under which Danny Young was signed. The first product of this company is cross over album that includes hit song OJUTIWON, which came out 23rd of October 2009.
chop my money – P-square
[audio:http://tooxclusive.com/wp-content/uploads/2011/08/P-SQUARE-ft-MAY-Dproduced-by-FLIPTYCE.mp3|titles=P-SQUARE ft MAY D(produced by FLIPTYCE)]
Fliptyce produced five tracks in Danny Young's cross over album which is a success includes Ojutiwon ft Ojoroo, my girl ft Kel and Paul Play.He recently visited the united kingdom to acqire more skills in sound engineering and music production. and also to work with some top Nigerian  artiste based in the UK. Fliptyce recently produced chop my money for p-square off the invasion album. P-square confirmed that chop my money is one of the best track on invasion album, thats why they decided to put it on track 2 on the album.
He has also started work on square records's new artiste, May-D.Flip tyce has also worked on Faze new album titiled refazed. he produced the brand new single "AM IN THE MOOD" the track creating buzz everywhere, with the success of am in the mood, faze can't help it but to produce seven more tracks with the ace producer.
Faze-AM IN THE MOOD
[audio:http://tooxclusive.com/wp-content/uploads/2011/07/Faze-Am-in-the-Mood.mp3|titles=Faze -Am in the Mood]
The follow follow crooner LKT's debute album is gingered with 8 good tracks of diffrent kind of genre produced by fliptyce. Fliptyce has produce a welcome back song for black face the former member of plantashun bois.the young and vibriant producer has worked with other star artiste like P-QUARE,FAZE,YQ, vector, Ay.com, jhybo,Soul-E Baba, Olu Maintain, LKT, Klever J, Ojoro, AY.COM,kzeek,Spiderman ,side one and many more.
From his wonderful work so far, there is no doubt flippy is globally compliant in his production. Now So Fly Music group is creating a platform for new talents that would help achieve the goal of placing African Hip Hop / African Pop on the international map, By producing amazing music that will take Nigerian artistes to the Grammys'