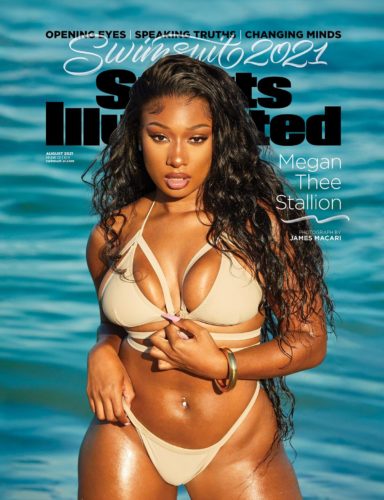 The "Thot Shot" rapper joins tennis champ Naomi Osaka and model and actress Leyna Bloom for three separate SI Swim 2021 issue covers.
Megan is making history by landing the coveted cover of the 2021 Sports Illustrated Swimsuit issue
"When I got the call that they wanted me on the cover, I was like, 'Wha—? Me?' And to be the first female rapper on the swim cover makes it extra special," Megan, 26, tells PEOPLE exclusively. "It feels amazing!"
The cover features the rapper models a light brown bikini with a strappy cutout top and high-cut string bottoms; inside, she poses in the sand as the tide washes in, wearing a hot pink petal-inspired top with bright green bottoms. She tells PEOPLE the whole experience shooting was "magical," thanks in part to her serious prep.
I had been training for months and I was super prepared. I got into the shoot right away. Photographer James Macari said he usually doesn't get into the water until the fourth or fifth set-up, but we were both in the ocean from the start. The day was perfect and I had a blast. 
---