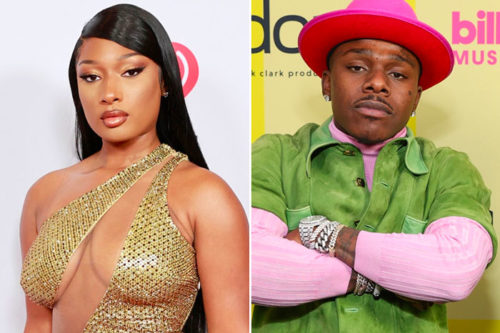 It does not look like the feud between Megan Thee Stallion and her work husband DaBaby will be ending soon, as fans spotted the "Thot Shot" crooner snubbing Baby during the BET Award performance.
Megan has been understandingly pissed after DaBaby decided to go on and collaborate with her worst enemy, Tory Lanez on their song "SKAT" which is currently making waves.
However, during the BET Awards on Sunday night, Megan performed her verse on the track, which also features Post Malone and Lil Baby, but left the stage before DaBaby entered for his verse.
Viewers, who are keen observers spotted the moment and moved to social media to make a fuss.
Megan leaving the stage before DaBaby performed… Yikes…. wrote one user. Another Twitter user commented Lmaoooooo Megan Thee Stallion said nah I will not be on the stage with DaBaby.
Notice how Megan left the stage before DaBaby came out.
It all started when DaBaby appeared to retweet a post about Megan getting shot in the foot, which DaBaby denied and blamed the incident on a website glitch
---