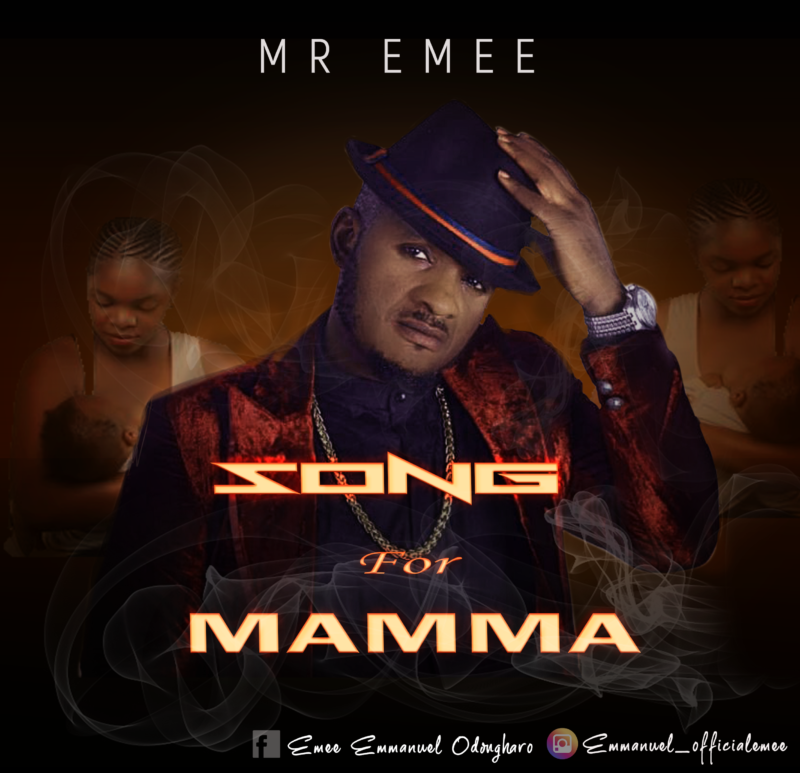 Mr Emee releases a brand new single titled "Song 4 Mamma"… this to appreciate our mothers.
Mr. Emee is a passionate Singer, A Song Writer as well as a Composer. He hailed from Warri, in Delta State. He is a Mechanical/Production Engineer from Enugu State University of Science And Technology, Enugu. He is also into fashion & designing. He has a lot of mind blowing songs to his credit, including 'SHOWER' which is successfully enjoying stream lining with massive downloads, and others like 'ERIMA', 'UNCONDITIONAL LOVE', 'JEJELI' etc., about to be released.
The song, titled: 'Song 4 Mamma', is written, composed and dedicated to all mothers (whether dead or alive) & potential mothers worldwide for their unending love & care over their children/wards irrespective of the circumstances they face in nurturing & bringing up their children/wards to be responsible individuals in the society. We love you, Mama…. !
Please enjoy the vibe!!!
Lyrics:
Intro: Yeah….!
A song for all d luvly Mammas in da World..
Mr. Emee once again….nnn
Chorus: Mama means so much to me
She means the World to me….
Mamma means so much to me, the World to me (2ce)
Verse 1: From the very start you kept me
For nine months inna your bellie
You brought me into this lovely World
Yeah…., my Sweet Mama
Through the help of Jah, you nutured me…
And when I was sick, you're always there for me…/ By His grace u cared for me
How can I thank you much enough?
For your care…, unending love
Your love is unexplainable
And you're always reachable
Yeah……
(Repeat chorus – 2ce)
Hook (2ce): Hail Mama…., for me…
Make you salute Mama….., for me…
Verse 2: Mama, you sat and watched my infant head…
When I was sleeping on my cradle bed…. (2ce)
You taught me how to sit
You taught me how to crawl
You taught me how to stand
You taught me how to walk
You taught me everything….
And as a child, all I need to know…
(Repeat chorus & Hook till fade)
---