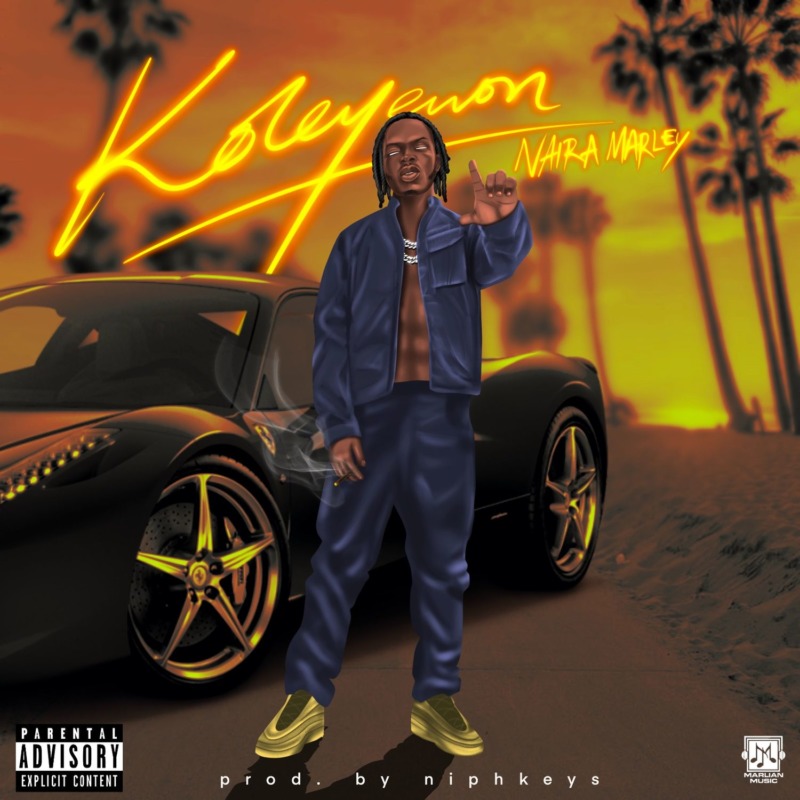 Naira Marley rounds up 2020 with this new banger "Koleyewon", produced by Niphkeys.
'KOLEYEWON' Closing out the year strong Naira Marley leaves fans with two new singles, this new Niphkeys produced street Bang! and 'Chi Chi'.
Naira Marley London's underground legend, a key pioneer in the UK AfroBashment scene, fusing his inimitable Lagos accent with trap, bashment, grime and afrobeats to create a sound that encapsulates the melting pot of London's and Nigeria's, constantly innovative club scene shows no sign of relenting as he hits us with another infectious jam with the 2020 singles 'As E Dey Go', 'AYE' still basking, topping charts and on popular demand. He continues to win the heart of his many and solidify that of the Marlians with new hit jams.
This year 2020 Naira Marley has blessed our playlist with impressive songs. 'AYE' and 'As E Dey Go' are tracks that brought a calmer vibe, something different from the loud street vibes he gave us in 2019. On the track AYE, we got to see another side of the singer as he spook the bitter truth that humans don't like to hear. It makes you want to have a rethink about life and change somethings about yourself. Still talking deep about life with reference to his popular slang, 'Inside Life' and 'Mafo' Naira came through with 'As E Dey Go'. After these two singles he follows up with an uptempo vibe 'Idi Oremi', The part 2 of his 2019 hit song 'Opotoyi'. "Idi Oremi" is a fun-filled track, specifically targeted at Naira female fans in bid to encourage women to feel confident and to love the skin they're in.
Today December 11, 2020 he drops a double single; 'Koleyewon' and 'Chi Chi' to wrap up the year. 'Koleyewon' is the one for the street filled with Lambas and lots of relative street slangs, words. It's produced by Niphkeys and would definitely do well cos of its catchy Vibe.
Quotable Lyrics
To ba fo, o ti fuck up
To ba fuck up, o ti se aiye
Ki lo kan aiye, o je oju aiye o tu fe jaiye
O lo fuck pelu street, shori street o ma fuck e up…
Listen and Enjoy!!!