Trinidadian American Hip Hop sensation Nicki Minaj is currently facing a lawsuit over allegations of unpaid bills for custom jewelry.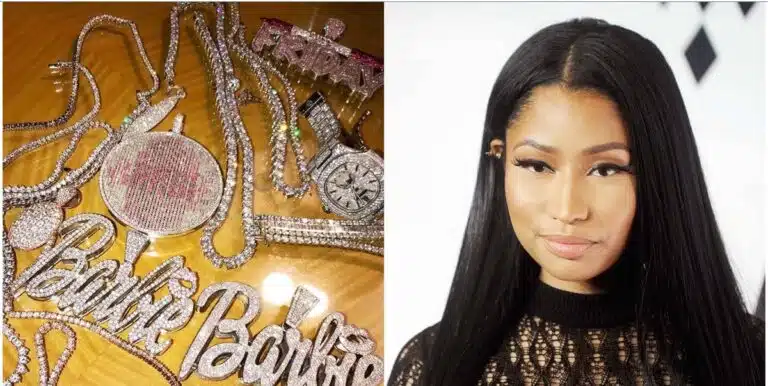 West Hollywood jeweler, Roseark Jewelry store, has taken legal action against the "Moment For Life" rapper, claiming that she not only failed to settle her outstanding balance but also damaged jewelry that was loaned to her.
According to court documents, Nicki's stylist, Brett Alan Nelson, had signed a contract with Roseark Jewelry Store, outlining an agreement to borrow jewelry for a public appearance.
The terms of the contract specified that the borrowed pieces were to be returned within a week and that any damages incurred during the loan period would be the responsibility of Brett.
The lawsuit alleges that Brett failed to meet the agreed-upon deadline and only returned 66 pieces of jewelry after the allotted time.
Furthermore, upon inspection, Roseark Jewelry store discovered noticeable damage to a set of earrings and a leaf ring, both of which were part of the borrowed collection.
Nicki Minaj's defense attorney has responded by stating that the music star should not be held accountable for the damages.
The attorney asserts that the jeweler is merely using Nicki to generate publicity for their store.
Additionally, a source close to Nicki told TMZ that all the borrowed jewelry was returned on time as promised.
Thee source further claimed that it was only after the items had been in the possession of the jeweler for some time that they complained about a missing stone.
As the legal battle unfolds, both parties involved will have the opportunity to present their respective evidence and arguments in court.
Nicki Minaj, known for her chart-topping hits and vibrant style, has yet to make an official statement regarding the lawsuit.
Fans and industry insiders alike are eagerly awaiting further developments in this case, as it involves not only the renowned artist but also the question of responsibility and accountability in the realm of borrowed jewelry.