Last Updated on Mar 7, 2022 | 12:39 by Tyler
Top 20 Nigerian Songs 2021, A lot of songs premiered in the year 2021. If we are being fair, all of them are almost worthy of being on this list.
However, these particular ones that made the list are songs worthy of accolades, and this is why we decided to bring forth a collection for your listening pleasure.
These songs comprise our favorites (those that we literally cannot get out of our subconscious), and the banging songs that made it.
The interesting thing about this collation has to be the fact that these songs do not have to be globally recognized by awards and whatnot, as they have truly proven to be worth getting featured in one of the year's highly-anticipated lists.
Come along with us, as we take you through the journey of the best songs out of the year 2021.
1. Wizkid – Essence ft Tems
Essence has been described as the official song of the summer by top American DJs and music executives, with much love from fans and American celebrities like Rihanna, Doja Cat, Kylie Jenner, and of course how good the song is, It is undisputedly the 'biggest song' in Africa.
Essence is the first Nigerian song in history to chart on the Billboard hot 100 and the billboard global 200.
It was released on 30 October 2020 as the 11th track from Wizkid's Made In Lagos, where he featured Tems.
Essence was good that Canadian singer, Justin Bieber had to jump on it to give us a befitting remix.
If Essence doesn't stand as Wizkid's No. 1 song, then no other song can fill the space. With the Hot 100 Billboard crack and Grammy Nods, this Big Wiz's Best Song Ever. Essence has over 73.8 million youtube views.
2. Wizkid – Ginger (feat. Burna Boy)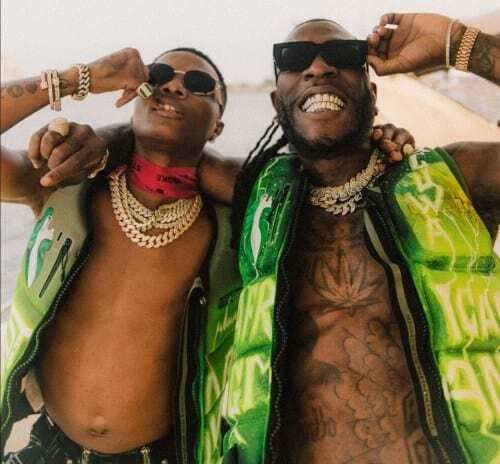 Two kings coming together on a track. This is not something we see every day. Big Wiz features his industry brother, Burna Boy on "Ginger", Off his 4th studio album, Made In Lagos. Without a doubt, Wizkid and Burna Boy murdered this song, as it was recorded as one of the biggest in its year of release.
This is one of the most streamed on the project and has received topch not reviews on social media. "If you want make i ginger give me the kokoro, Ma ko je bi Jollof, Anywhere i go, je ki won mo pe mo ma gbo'mo lo, No dey do like bolo… Burna Boy brought in a big vibe, took this masterpiece to another level, a new Realm.
Ginger
official music video was directed by Meji Alabi and it has surpassed 31.3 Million views on YouTube.
3. Ruger – Bounce
She wants a gangster in her bed tonight
She ah wants me, me I know
And man ah, I full ground me I dey tonight
She ah callin' my phone
She say, "Why me so unruly?"
Tell me the main reason you wan woo me
Wound a man with her idi
Curious girl, she got questions for Siri
Ruger is definitely a lyrical god. , the Nigerian multi-talented artist just recently delivered a new debut track tagged "Bounce" in the year, 2021 off his recent debut studio EP titled "Pandemic The EP" trending right now in all the Nigerian cities.
This song was delivered and listed as the 4th hit track that comes off in this EP trending as one the Nigerian most wanted songs of the year. Bounce has over 27 million views on Youtube.
4. Davido – The Best ft Mayorkun
Just as the name implies the song is literally the best out of Davido's 3rd studio album, A Better Time. The song is a joint between the label boss, and his former signee, Mayorkun, who is now under Sony Music.
The Best is a jam for life no cap. It oozes so much positivity that you cannot help but love it. The Best has  over 9.8 views on Youtube.
5. Ladipoe And Buju – Feeling
Feeling
has become the record that everyone have found pleasure in. Topping music charts both locally and internationally, the record has kept listeners in a shape that relates with everyone's emotion.
Feeling has a strong connection with it's listeners, even as the record is perfect to fit for song on the year conversations. Ladipoe has always had his ways with words. His philosophical vibe has no match and this keeps him on top of his game. 6.7 milion views on Youtube is no joke.
6. Olamide – Infinity ft Omah Lay
Off the album, 'Carpe Diem' which consists of 12-tracks and features the likes of Phyno, Peruzzi, Fireboy DML, Omah Lay, Bad Boy Timz and others, Infinity sits at number 3. A song about sex and love.
She say make I put it in
Make I put it in put in put in Oh no no
She say say till infinity
Till Infinty finity finity Oh no no…
Olamide once again showed us how he can switch from the typical ghetto song, to one that will have you tumbling in love. Infinity has 49 million views on youtube.
7. Goldy – Omah Lay
Man I thank God I Godly
Say God no ungodly
Oluwa na hin comfort me
When this people dey come body me
Men I thank God I Godly gon gon gon
Say God no ungodly gon gon gon ah
Oluwa na him comfort me
When this people dey come body me dey come
Omah Stanley Didia, widely known as Omah Lay premiered the song titled Godly for his fans and music lovers all around the globe. Godly is the 3rd song off his 2020 sophomore EP Tagged 'What Have We Done'.
His debut EP, Get Layd EP was released on 22nd May, 2020 with 4 tracks. Currently, Omah is one of the fastest rising newbie in the music industry, dishing out what his generation- Gen Z want on a steady. 60 million says a whole lot.
8. Bella Shmurda – Cash App, Zlatan, Lincon
Fine Boi Bella Shmurda came through with this addictive tune, Cash App in the year 2020, and we literally could not breathe without listening to this song.
Cash App was like the average Nigerian happy pill and it did a lot to distract us from our issues. Bella Shmurda, Zlatan, Lincoln created a monster hit with an epic video and Nigerians couldn't be more thankful. Cash App has 17 million youtube views.
9. Wizkid Blessed ft Damian Marley
Blessed is another brilliant feature on the Made In Lagos album, this time it hosts Damian Marley, legendary reggae artist and songwriter. Blessed has been one of the strongest features on the album, introducing Wizkid to an elite reggae listening audience from all over the world.
Blessed was a top-charting track and huge contribution to the message being passed on the Made In Lagos album before Essence stole the show. A spiritual feature of this magnitude with Damian Marley is all Wiz needed to gain the ultimate acceptance of the reggae community. 14 million views speaks volume.
10. Omah Lay – Understand
Omah Lay's
Understand
is another record that made a huge impact in the Nigerian music soundscape and beyond. Recently, Omah Lay had a successful home concert in his city and has been set aside to break limits with his debut studio album "Boy Alone", which he anticipates. He also released the catchy "Free Mind" that has currently been doing numbers on all streaming platform both locally and internationally.
Understand had about 35 million views on Youtube.
11. Davido – Jowo
Off of his 3rd studio album (A Better Time), Davido comes through with a love song, titled "Jowo". A song that preaches that when there is love, everything falls in place and even the toughest of walls can crumble. On the music video of this beautiful track, Davido featured BBN Season 5's finest, Nengi Hampson, who showed off her acting skills in the music video.
Jowo is an evergreen track that rocked both the years; 2020 and 2021. It was produced by "Magicboi" Peter Arome Kehinde Emmanuel and "Napji" Jerry Jurbe Jethro.
12. Gyakie And Omah Lay – Forever Remix
Ghanaian's most beloved Gyakie's mild tempo "
Forever Remix"
, not only originally become one of Nigerian's favorite track in 2021, but with Omah Lay's effort on the remix synced perfectly with Gyakie's vocals. The record not only raked huge amount of streams across digital platforms, but it also strongly connected the hearts of many love birds together.
13. Zinoleesky – Kilofeshe
Marlian Record signee, Zinoleesky proved his strength when he dropped a follow-up to his viral hit song, Ma Pariwo. With
Kilofeshe,
Zino gained momentum as he experimented with a different sound.
Zino constantly comes through with relatable music that can also serve as club bangers, it's so amazing how he juggles up his lyrics in such a versatile manner. Zino constantly comes through with relatable music that can also serve as club bangers, it's so amazing how he juggles up his lyrics in such a versatile manner.

One of his most recent songs, Blessings is another one of such songs and it speaks about his journey so far, as well as, how he does not compare himself to the next person while wishing everyone well
14. Olamide – Rock
Renowned Nigerian talented music artist, Olamide, drops this masterpiece soundtrack named "Rock". This outstanding track was released in the year 2021. Baddo Sneh, uses this song, to make a major impact in the music scene.
Olamide, comes through on this one after he gave us "Carpe Diem" Album, in the year 2020. The album, contains 12 amazing joints, which features Nigerian raves of the moment, Omah Lay, Bad Boy Timz, Bella Shmurda, and many other lyrical genius.
In this song "Rock", Olamide, showcased his versatile capabilities.
15. Fireboy DML – Peru ft Ed Sheeran
Fireboy DML has currently raked a huge success in the year 2021. Recently his monster hit
Peru
, has fully broken into the British market with the help of Ed Sheeran on the remix, which has expanded DML's marketability and access into the UK music scene. His collaboration with British singer, Ed Sheeran on the remix of the song is nothing short of vibes on vibes. 
The fact that he could get Ed Sheeran on the remix of his track speaks volume. Peru Remix has 41 million views on Youtube.
16. "Alcohol" by Joeboy
Considering the chaos created by lovers of this tune on social media, 'Alcohol' definitely ought to be saved a spot on the list, and not just any spot, it has emerged as the number one song of the Top 10 Nigerian songs of the month of October.
The multi-talent, Joeboy almost got in trouble due to the manner in which his fans abused the #Alcoholchallenge. Lost in amazing rhythm and sound, Joeboy, in his lyrics prayed for blessings and explained how he uses alcohol as a medium of escape from his worries. Alcohol by Joeboy has 37 million views on youtube.
With 6.1 million views on youtube, Cay has proven to be one of Nigeria's next big starts. Nigerian finest record producer and songwriter, Ckay drops a new astonishing single dubbed, "
Felony
". "Felony" serves as Ckay's first release under his new label, Warner Music South . His song, Love nwan titi has broken several records, further helping to put Nigeria on the global map.
18. "Cold Outside" by Timaya ft Buju
Who would have ever envisaged a Timaya/ Buju collaboration, but this duo made it happen, and guess what, it's one of the biggest songs in the country as we write. Cold Outside depicts the cold state of human nature. This record is for you to maintain good mental health this week and stay off the cold world (humans).
This jam is very addictive and will have you thinking about life, as well as, understanding that you don't have to stress yourself over meager issues.
It's so cold outside, my brother
I don't wan pull no trigger
I just wan dey for some kind place
I don't want no wahala
It's so cold outside, my brother
Me, I no dey hate on a brother
Me, I just wan dey (dey) for some kind place (place)
I no want no wahala, oh
It's so cold outside
Cold outside has 9.9 million views on youtube.
19. Rexxie And MohBad – KPK
KPK was the official anthem for December 2020, but its success and rave still filled into the year 2021. As we speak,
KPK
remains an addictive jam anytime;anyday.
The song was delivered by Marlian Record signee, MohBad, who got employed by Producer Rexxie. MohBad has gone on to drop several more addictive tunes, like Feel Good, back side and we can't wait for more. KPK has 7.3 miilion Youtube views.
20. Lojay And Sarz – Monalisa
'Baby follow my command like Zombie… I'm not exactly sure what this song would have scored if Lojay did not begin with that line. I mean, it must have been a divine revelation. 'Monalisa' produced by Sarz is that song that has the ability to thrive in the next 5 years.
This song never gets old. One fun fact about LoJay is that he is the only newbie, who got to work with the  almighty Global music star, Wizkid on his debut album L NATTN.
19 Million views is enough to convince you.