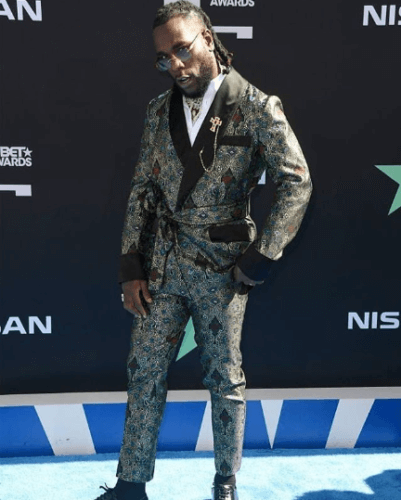 Burna Boy is currently receiving the bashing of his career on Twitter.
Just yesterday, Burna Boy caused a stir on social media when he declared himself the best after Afrobeats King, Fela Kuti. The Grammy nominated singer bragged that he paved the way for artistes and is the main reason why they are respected by the westerners today.
Nigerians reacted by taking to their respective Twitter accounts to bash the singer for claiming to be the best after Fela. Burna has been labeled as proud and rude to have made such a statement. According to them, he is ignoring the hard work that the likes of Seun & Femi Kuti, Wizkid, Davido, D'banj, 2face, Olamide, and Psquare have put in just for Afrobeats to be recognized in the western world.
See some of the epic reactions below:
This whole Burna boy thing just made me understand how the people in jesus's time must have felt when he said he's the son of God when there were prophets before him.

— Sir Vage ? (@sammie_chika) February 13, 2020
Burna boy talking about no one paved the way for him after all these two did for the industry pic.twitter.com/VBDy88ZjlS

— MONITORING_SPIRIT (@Sonjoe_Kutuh) February 13, 2020
I don't have a problem with you tweeting whatever you want about this Burna boy issue, but don't say his songs are not nice because that's a big lie!

— Samuel Mbah (@__Mbah) February 12, 2020
I swear Nigerians are funny

Someone said "Burna boy won grammy nomination and he's shouting I'm the best like DJ Khalid". ???? pic.twitter.com/iU72ifFKG0

— MACHALA1? Wizkid is Machala2 (@Crixxboi) February 12, 2020
Burna Boy: I paved the way

Wizkid, Davido, D'banj , 2face, Olamide, Psquare etc. pic.twitter.com/9VMIWcdd1g

— ?? D.U.C.E? (@mazi_duce) February 13, 2020
Burna Boy: 19 Major Awards
Olamide: 22 Major Awards
Davido: 29 Major Awards
Wizkid: 47 Major Awards

Best Indeed ?

(Source: Wikipedia)

— SAMMY? (@badboysammy_) February 13, 2020
Davido giving credits to Tubaba Psquare & Dbanj, The actual artistes who paved the way for him to be where he is now
Wizkid has also done the same
But there's never been a moment Burna boy acknowledged these legends, Man is so full of himself
Pride comes before downfall Burna pic.twitter.com/SBfOh6dILa

— Vinnie (@vinz6199) February 13, 2020
This was 2015 when Burna Boy was relatively the Everton of the premier league.

Wizkid, still gave him kudos!

Man just qualified for Champions League and all he can do is disrespect everyone?

Burna Boy, you're Mad! https://t.co/6dq4C7M1Dm

— Wisdom Allison (@Nycewizy) February 13, 2020
We are forgetting how Wizkid didn't attend the BET because they give awards to artist outside the main event (10 am before the main events at the back stage)

He stood up and things changed, yet Burna Boy is saying rubbish.

Burna Boy, Your father!!!!!!!!!!!!!!!!!

— PorPorRee ? (@VEJ0ME) February 13, 2020

"Nigerian Twitter Drags Burna Boy For Declaring Himself The Best African Artiste After Fela", 5 out of 5 based on 2 ratings.
---