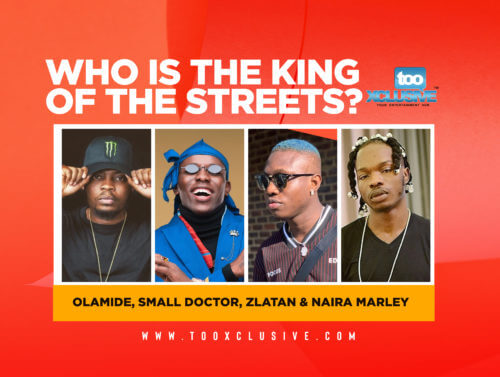 There are various categories of music artistes in the Nigerian music industry, but of all the artistes in these categories, there are the ones who are well loved and accepted in the streets. 
These artistes have their major fans in the hood and are a force to reckon with within these ghetto-like areas. They have distinct street credibility and great influence on them as well.
Currently in the Nigerian music industry, there are four music artistes dominating the streets as they have continued to churn out hits upon hits, feed the streets with great lambas (street slogans) and organise shows to bring the streets close to them.
These artistes are no other than Olamide, Small Doctor, Zlatan,  and Naira marley. But there is an argument about who currently is the king of the streets among these four, some are saying it is Olamide, while others are gunning for one of the other three.
But in a way to have your thoughts on who the current street king is, we have decided to seek your opinion.
Olamide, Small Doctor, Zlatan & Naira Marley – Who is the current king of the streets?