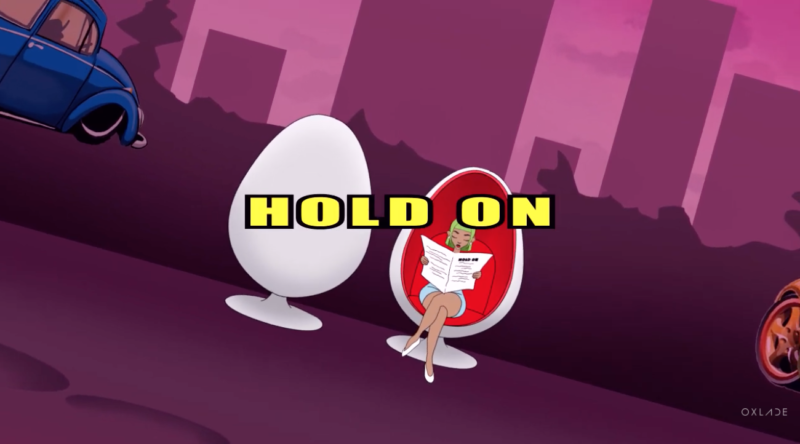 Fast rising singer, Oxlade releases the visualizer for his buzzing hit track "Hold On", produced by Dera.
"Hold On" by Oxlade… this track is off the melody singer's debut EP – "OXYGENE". The EP Launched with the melodic, Spax-produced hit track 'Away' sees summer arriving early with a selection of six vibrant tracks which offer a formal introduction to the talents of the exciting Lagos-based musician Oxlade, ahead of his inevitable and imminent ascension to stratospheric heights. Featuring production from top class Nigerian producers including Spax, Dera, Lussh, Echo and London-based Nosa Apollo and featuring a must-hear collaboration with the British-Nigerian singer Moelogo on 'Tables Turn'.
"Hold On" is a danceable song beautifully created with catchy lyrics. The drums and the guitar were skillfully used and whilst you dance to the music the lyrics give you something to reflect on. The song has one verse, one hook, one chorus repeated twice but his passionate way of singing this song will almost make you think it has more to it… Listen!
This track as been in the heart of many music lovers, it's like the most loved track off the 'Oxygene EP', next to the lead single 'AWAY'. To boost the reception of the song more Oxlade serves us with the Animated Music Video for 'Hold On'… Watch and Enjoy below
LYRICS
(Pre-Chorus)
Yeah, there's something about this your love wey dey make me losing,
*Losing Control ooh
There's something about this your love wey dey make me Marama, oh yeah,
*Marama for you oh
(Chorus)
Hold on yeah, don't leave me no,
Na you I want, Hold on my love
Hold on, baby no rush,
Na you I want, Hold on, my love
(Post-Chorus)
I dey Manchara for your love oh,
Crazy for your love oh,…. Get The Full Lyrics at (Lyricable) Click HERE