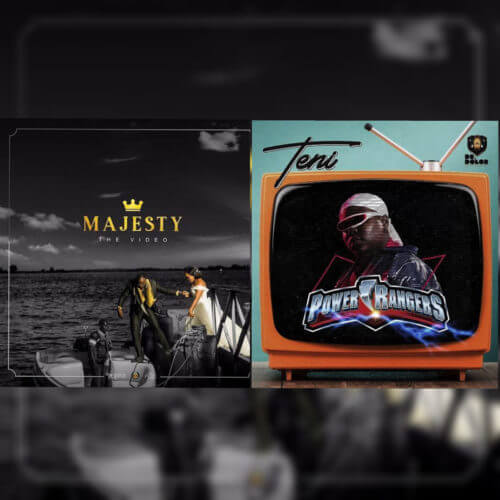 DMW's Peruzzi and Teni are currently the top two contenders for the Next rated artiste awards of 2019 after a brilliant showing in 2018. Both are fantastic singers and song writers and have successfully got fans divided on who the greater talent is.
Their brilliant form has continued in 2019 with both artistes already making serious wave and trending heavily in the industry with their songs, "Majesty" and "Power Rangers."
Both songs have thoroughly interesting sounds and great vibes and have become a favourite of many music followers, even for those that are not fans of the artistes.
Peruzzi's "Majesty" was released as part of an E.P; "Heartwork" in November 2018. It didn't really make an impression on people in that year until 2019 after which it made music followers request for a video.
Peruzzi however listened to the fans as he dropped an amazing video that awe many and further spread the popularity of the song. "Majesty" has great vibe, it's an antidote to get the heart working again and one of the sweetest songs of 2019.
Teni's "Power Rangers" on the other hand was released as a single in June 2019. A song that has absolutely sweet melodies and very simple and relatable lyrics, Teni laced her unique voice on this song and it became so popular amongst music fans. "Power Rangers" is on constant rotation on radio and a regular presence on music charts. It's a great song!
It has been established above after the writer's assessment that both songs have quality and finesse. But in order to make you part of the process and help us for future comparative purposes , we would like to know which you are feeling the more at this present time.
Peruzzi's "Majesty" VS Teni's "Power Rangers" – Which Are You Feeling More At The Moment?

"Peruzzi's "Majesty" VS Teni's "Power Rangers" – Which Are You Feeling More At The Moment?", 3 out of 5 based on 8 ratings.
Editor Rating

Rated 4 stars

Excellent
---
Peruzzi's "Majesty" VS Teni's "Power Rangers" – Which Are You Feeling More At The Moment?

Reviewed by:

Published on:

Last modified:
---
---