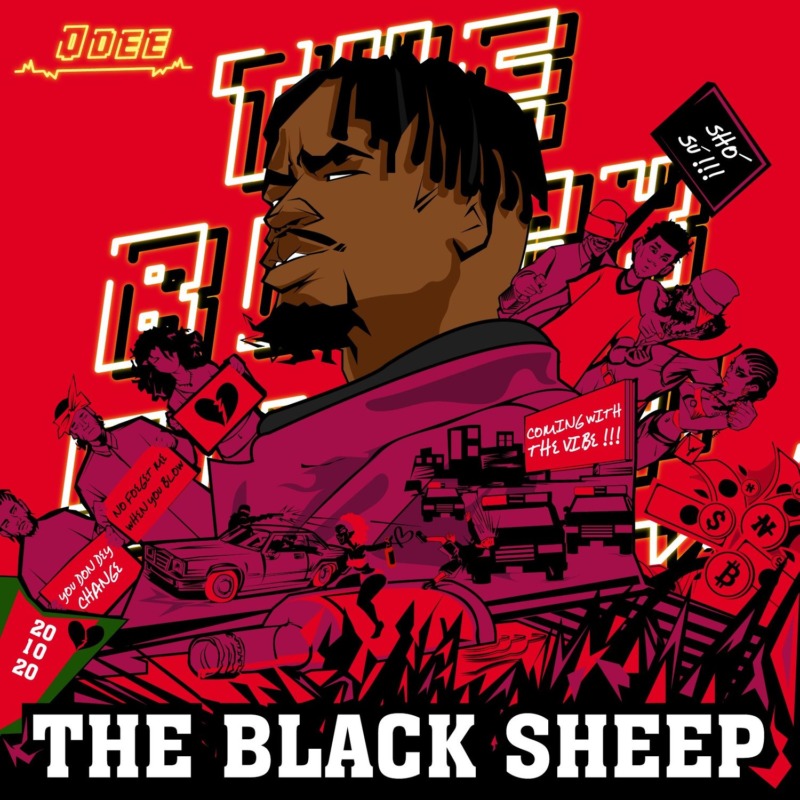 Q-Dee's Mixtape "The Black Sheep" is an affirmation of Self, Acceptance and Growth.
Fast-rising, indigenous, afro-rap artist, singer and songwriter, Oladosu Qudus Akinola better known by his stage name Q-Dee, has hit yet another milestone with the release of his pioneer mixtape, "The Black Sheep".
The twelve- tracked album was executively produced, written and directed by the multi-talented artist with collaborations from Drae in Get the Bag and Oga Mic in Unilag Mapoly. Production credits go to ace-producer, Extreme Beatz.
The mixtape launches with the track, Black Sheep where the rapper makes a harmonically- rich welcome to the album. In a mélange of his Indigenous lyrics, Afro-pop, neo-soul and Amapiano sounds, he gives a bold expression to his heart song.
The Black Sheep has been described by many as an ethnic mosaic of experiences, multiculturalism, color and sounds. Here, the rapper takes an articulate stance on a myriad of personal unveilings which reveal his journey towards self-determination and self- assertion. Like a diamond out of the rough, he comes fully prepared with a voice that revolts against all opposition and life oddities. According to him:
Music is an outlet to process life, to connect the dots and positively influence the world around me. I love to impact through my music. Brick by brick, I hope I am able to build the blocks for change. I think my ability to blend cultures and languages unboxes me and gives me room for a broader perspective and network. I just want to reach out and inspire with my art and nothing should be a barrier.
The album is a follow up from his hit track collaboration with producer, Extreme Beatz titled "End Sars", an artistic clamor to end police brutality in Nigeria.
It is worth knowing that Q-Dee is no stranger to the school of social criticism. The singer has always pitched his tent with the school of conscientization arts; employing music as his tool to reorient his listeners on Nigeria's historical realities, whilst advocating for socio-political, cultural and economic change in the country. Listen to 1960.
Every track on the album is accompanied by an individual message which the rapper seeks to share with the world. Generally they factor in unique stories that are absolutely inspiring and worth listening to. In his words, "Every track is an exceptional tribute to a compendium of honorary works… So far, the prerelease reviews have been positive".
Alongside the album, he has creatively worked on a branded merchandise for the "The Black Sheep" project which he is delighted to share with fans. Select from a wide variety available now on IG and Pinterest @iamqdee & Twitter @iamqdee_
The Cashew Gang artist has also hinted on a premium Black Sheep EP album which is expected to drop at the 1st Quarter of 2021. We have ears on the ground to update you when he makes his next move- so stay tuned.
The Black Sheep Mixtape is now available for downloads on TooXclusive, Audiomack, Soundcloud and your relevant music avenues and blogs.
If you love good music, Q-Dee has it all dished out here. Listen now, Enjoy! and don't forget to share, like and comment.