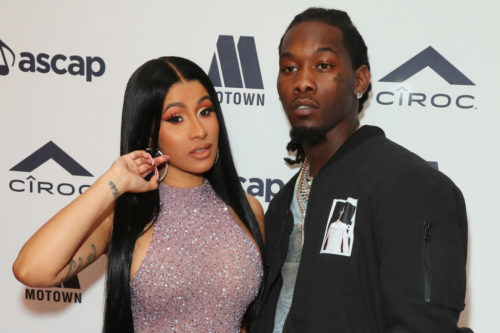 American rapper, Cardi B has officially filed to dismiss her divorce from husband, Offset.
It would be recalled that a few weeks ago, the rapper filed for divorce from her husband, Offset, at a courthouse in Atlanta. Her divorce filing says the marriage is "irretrievably broken" with "no prospects for a reconciliation." However, she later reconciled with the father of her child at her 28th birthday party. The couple locked lips after offset gifted her a brand new car as a birthday gift.
According to new reports, Cardi B has dismissed her divorce filing from Offset. It was stated that she filed new papers in Georgia calling off her earlier attempt to divorce her rapper husband from September 15. She filed the dismissal just ahead of their November 4 divorce hearing, and she did it "without prejudice," which means her earlier divorce filing could be brought back at a later date if a judge approves the dismissal. A judge still has to sign off on the dismissal.