Savage Recruits Budding artist, Victony For An Irresistible Second Single- ROSEMARY.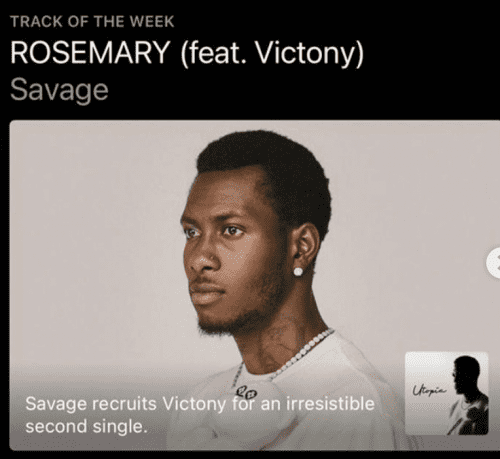 Rising Nigerian rapper, Savage follows up the success of Confident with this addictive titled " Rosemary " which features Victony.
"My friends call me Savage because I'm plain; I'm a real person. I don't know how to hide my feelings. I try to smile, but my face just remains so straight because I'm an introvert. So, people just read that: 'This guy's a savage.' So, OK, let's be Savage"… says the talented rapper.
ROSEMARY is the first track on Savage's Utopia EP. It is an AfroPop-Rap tune produced by Tempoe.
" Rosemary " is a song for all the beautiful African ladies— how sexy they are and how we appreciate them. The song is just about the fact that African ladies are so pretty. It's a representation of all African women. And Victony, a very dope artist killed it!
Notable Lyrics for ROSEMARY
Girl I no dey do say I pass my neighbor oh (do say I pass my neighbor)
Only you block my blood circulation oh (block my blood circulation)
For this mathematics no calculation oh (girlie no calculation)
Cause girlie my talk no need translator oh (baby no translator)
Baby you go finish me
And baby I go finish you too
Say baby you go give it to me
And baby I go give it to you too
Say baby you dey click on my button
Whenever you touch my something
Baby you go finish me
And baby I go finish you too yea…
Listen below;
Savage and Victony presents the official music video to Rosemary… Watch and Enjoy!!!