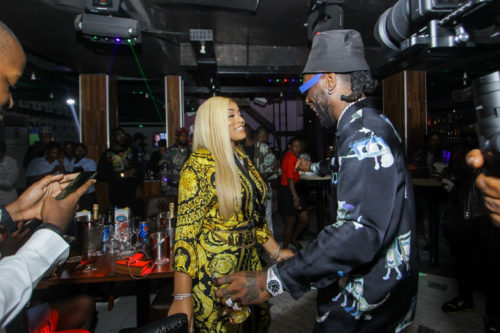 The girlfriend to self-acclaimed African giant, Burna Boy, Stefflon Don has spoken on behalf of her man on the ongoing #EndSARS campaigns in the country. 
Taking to her Twitter page, she expressed disgust over how people can be so evil to kill and brutalize their own kind. In response to a fan aking for Burna Boy's whereabouts as he has refused to lend a voice to the issue, Steff assured Nigerians Burna Boy is actually doing something to help make the changes we need,. She added that he is actually helping out a lot more than sending tweets on social media.
In her words: "I really do not get how ppl can be so Evil, especially against their own.This shit makes me so sad. It's easy to tweet and say some stuff that the ppl want to hear but thats not all that really matters what really matters is what is going on behind the scenes and what someone is actually "DOING" to help make the changes we need.
Big up everyone doing their part. Ain't got to thank me sis its fax we all in this together!!!!He is doing something that will help out allot more than just sending out tweet, I promise."
I really do not get how ppl can be so Evil, especially against their own.
This shit makes me so sad?#EndSARS #FuckTheSystem #LoveYourPeople

— DON (@stefflondon) October 10, 2020
It's easy to tweet and say some stuff that the ppl want to hear but thats not all that really matters what really matters is what is going on behind the scenes and what someone is actually "DOING" to help make the changes we need. Big up everyone doing their part.??

— DON (@stefflondon) October 10, 2020
Ain't got to thank me sis its fax we all in this together!!!!??#FuckTheCorruptedSystem https://t.co/Btc7jhlvSn

— DON (@stefflondon) October 10, 2020
He is doing something that will help out allot more than just sending out tweet, I promise. ???? #HeIsWorking #GodKnows #EndSARS #EndPoliceBrutality https://t.co/qf7vnwrmF1

— DON (@stefflondon) October 10, 2020