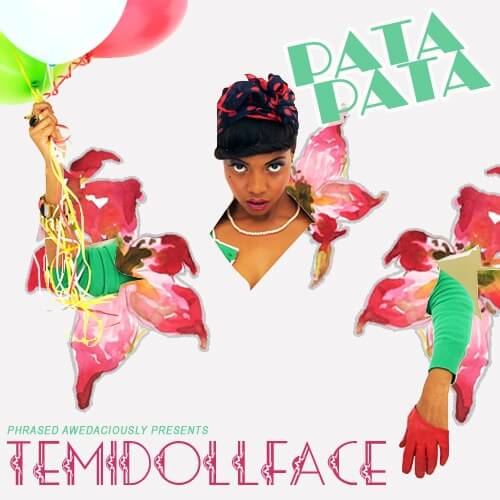 February 14th has come knocking again, bringing with it the chaos that is the task of "professing one's undying love" to a significant other (or others). But what if that love has somehow fizzled out and died a grueling, exhaustive death despite your best efforts and good intentions?
Well, have no fear, TemiDollFace is here with a brand new song in honour of the biggest declaration of them all: THE BREAK UP!
The doyenne of drama-soul steps out with a clear and bold musical statement with her debut single, "Pata Pata." Hitting the airwaves this Friday, February 8th 2013, "Pata Pata" blends TemiDollFace's superior soulful vocals with the club-ready, up-tempo beat she co-produced with renowned talent, Ikon of Syndik8 fame.
A clear nod to the genre greats like Karen Carpenter's "It's Too Late" and George Benson's "Masquerade," the single is about love that has died even though one wishes it hadn't.
TemiDollFace says, "Everyone has been there; guys and dolls. You loved him once and still care enough about his feelings to end it on a good note but some just don't know when to let go. This is the essence of 'Pata Pata.'"
Clearly, this is a song for the young and free and those who wish to be.
The singer-songwriter delivers a sassy but classy musical introduction as a preview to her upcoming debut album to be released in the near future. With a single this good, one can only imagine what else exists in her treasure trove of talents. It is 2013 and TemiDollFace presents a track to help you kick start a fabulous year.
[audio:http://tooxclusive.com/wp-content/uploads/2013/02/Pata-Pata-_-tooxclusive.com_.mp3]

"TemiDollFace – Pata Pata", 5 out of 5 based on 1 ratings.
---