A Senior Advocate of Nigeria, Adeyinka Fusika, who is also the counsel for the embattled Afrobeat singer, Seun Kuti, has disclosed why the singer is still incarcerated.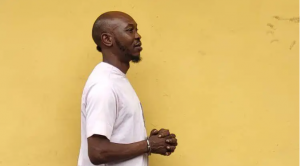 Fusika said Kuti is still remanded because of lack of "administrative approval" for the singer's bail.
Fusika, in a chat with punch on Tuesday, said Seun's bail had nothing to do with the court sitting today (Tuesday).
Seun, who was arraigned by the police last week for assaulting a policeman, was remanded in police custody by a Magistrates' Court in Yaba, presided over by Magistrate Adeola Olatunbosun.
During the sitting on May 16, he was granted bail by the court but was to remain in police custody for 48 hours to allow police to complete their investigation.
On Thursday, May 18, after the 48-hour period had passed, the police sought to keep the singer in custody for an additional four days in order to continue their investigation.
On getting to court today, it was gathered that the judge had gone for training.
According to his lawyer, the purpose of today's sitting was to receive the Lagos Director of Public Prosecution's advice.
"The court, as you will recall, had ordered that the prosecution of the case must be by the DPP's office and not by the police, hence, the police were also ordered to send the case file to the DPP for evaluation and decision as to prosecution.
"The court was, therefore, to sit today to receive the DPP's advice, but did not because, as we're informed, the magistrate is attending a training course," Fusika noted.
He, however, claimed that the advice of the DPP was not ready as the police investigation team was still holding on to the case file.
The Lagos State Police Public Relations Officer, Benjamin Hundeyin, however, maintained that the matter was in court and he could not say much about it.
"The matter is in court already, and for that reason, we cannot talk about it," he told The PUNCH.
According to him, an update concerning the matter will be from the head of the police legal team.
Fusika was optimistic on Tuesday about his client's release, as he maintained that the bail had been granted already and was only awaiting "administrative approval."
"The release of Mr Kuti on bail, as ordered by the magistrate, is only waiting for administrative approval. That process has nothing to do with whether or not the court has a physical sitting. We are hopeful that Mr. Kuti will be out today on the bail granted him, having fulfilled the terms," he stated.
When asked what this administrative approval was all about, he said the bail warrant needed to be signed by the magistrates or any authorised person by the court