Following the release of her comeback album to an even bigger deal, Mavins First lady, Tiwa Savage, is bent on making 2016, a successful one.
The 'My Darling' crooner, took to her Instagram some minutes ago to reveal that she and her son, are the newest ambassadors for baby diaper company, Pampers.
Tiwa wrote:
Introducing the new Pampers Ambassadors #blessings #WeLovePampers #JamiLovesPampers #MomsKnowsBest.
Finally, We know the reason why her majesty, Tiwa Savage, had for months concealed her son, Jamil's face. Its for no other reason than this new deal and probably trying to ensure that his face which will definitely be on the product doesn't become over saturated by the time they deal and the products are everywhere.
So guys, when next Tiwa decides on concealing another baby's face or any other thing at that, you should know that the QUEEN has huge things under her sleeves.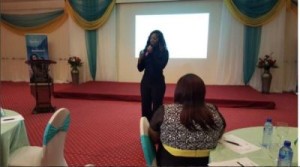 Congratulations Tiwa!