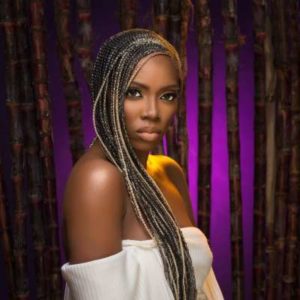 Following the controversy that ensued her statement that she prefers Yemi Alade as a singer to Tiwa Savage because she has a better vocal range; radio presenter, Misi Molu has made a reaction.
Misi Molu reacted to the posts Tiwa Savage used to insinuate that she (Misi Molu) had earlier begged her (Tiwa Savage) for money via social media before airing her views about her talent. Tiwa Savage wrote, "Wow! They beg you for money today and talk trash tomorrow because it's not personal; they're just doing their job, abi?"
In another post, Tiwa stated, "Celebrities are human o. You can't beg for money then talk trash and expect me to not catch feelings. Like, are you serious? Next time you think of sliding in my DM asking for money or anything; remember your personal opinion and miss me with your BS."
Misi Molu reacted to these posts during an interview with Sunday Scoop. The radio personality tasked Tiwa Savage to provide proof that she begged her for money, she said, "Personally, I don't believe she was talking about me. But if she is, she needs to show evidence to that fact. The situation has been blown way out of proportion than what the intentions of the discussion were actually meant to be. People are giving it way too much credence."
About her controversial statement which she used in comparing both artistes, Misi said, "The type of industry we are in; we are constantly faced with comparison. For example, I have a colleague I'm constantly compared to at work. I did my job by showing my personality as an on air personality. The only problem is that some people do not agree with my opinion and that's fine."
Meanwhile, Yemi Alade refused to comment on her comparison with Tiwa Savage but she maintained her stance that there is no number one artiste in the country. Speaking through her manager, Taye Aliyu, she said, "All of the top artistes in the country are blessed by God and they are all doing well in their respective ways. We don't always have to compare artistes because they have their individual uniqueness. Yemi is always focused on her craft; she doesn't have time for rivalry."

"Tiwa Savage Should Prove I Begged Her For Money – OAP, Misi Molu", 5 out of 5 based on 1 ratings.
---