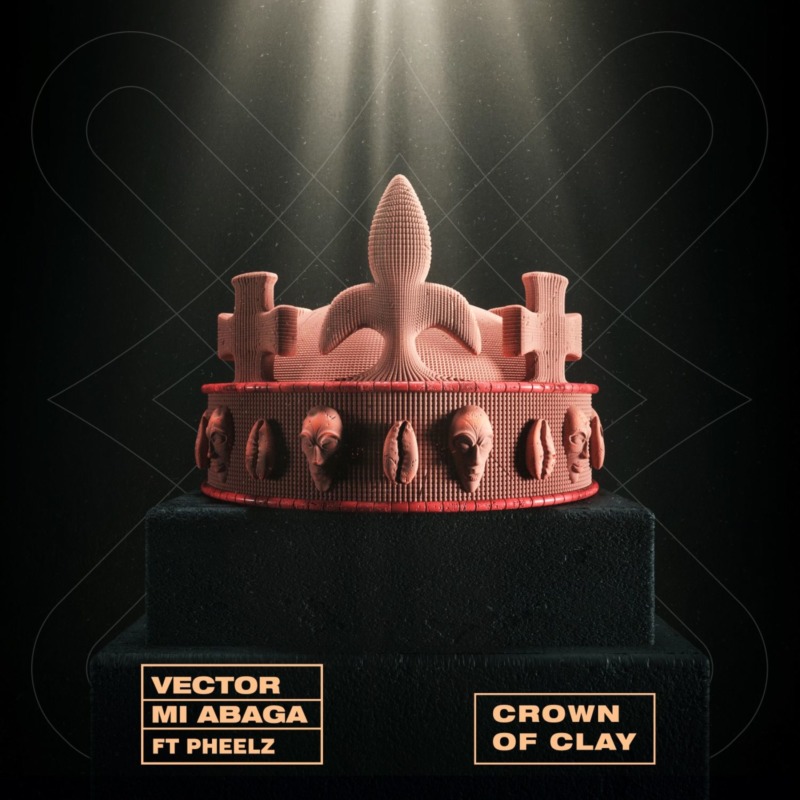 Vector – "Crown Of Clay LYRICS" ft. MI Abaga, Pheelz
STREAM/DOWNLOAD MP3
LYRICS
Rii!
Rii!!
Riidiimakulayo
My father told me when I was around, the day
He took me to the river sat me down to pray
Right there in the water to the sound of pain
From the mud he fashioned me a crown of clay
It's why no one can ever take this sound away
Took me to the water sat me down to pray
And right there by the river to the sound of pain
Form the mud he fashioned…
Welcome to the bloodline of the black kings
Real life, black sins
The black church, black thoughts, black sins
Uganda, Bobby Win?, magazines
Newsflash but old news, lik? sins
We can't speak, judge me, my genes
Ann Soro Soke, shey won gbo loke?, quite mean
But you can't hold the voices, some of them go burst out
We have way to many voices, this is clubhouse
I'm African and blessed
I hold it down even when I face distress
The kind of punches wey fit make your face depress
I mean if life is a bitch then this is sex
It's big dick energy when I flex
I think them scared of me, it's my guess
But what's beef to a man from the west
Cowboy, power to man with the chest
How boy? treasure wey I carry deep within
But society is getting in between
The thing long like many Limousines
But I dey dey dey, King no dey japa
People of Opobo, this king is Jaja
Story of a slave to a king
Na barrack boy wey dey relate many things
No be ashawo if I fuck many queens
You see this crown of clay is really a thing, king
For instance, only got the grind in my system
Many water pass wey for drown me
Nothing shake the strength of a black man, (black man) in in me
Blood of my forefathers in me
Steady chasing that paper daily
Orisirisi many dey be trying
But odeshi dey for my black skin
Rii!
Yo, M.I
Welcome to the blood line of black queens
Who birth the black dream, from their black hips
And covered us with black wings
Women with heart of a king, like drag queens
My mother told me wash your hands in the black stream
For the soil on which you toil has gasoline
Boil in the water the fire that steam
By the riverside where niggers dey high, grass green
If they mess with you dey get one eye, like black beans
The ancestors are starting to speak more loudly
Proudly I listen to what they're saying about me
We all sinners but God was in us
Before they sent us on Slaveships
And consecrated Israel and Saudi
That means our village is our holy grounds
Our traditions and our names they all are holy sounds
The wealth that's in our continent was stolen up
But what they gon do with me now
They can't control me now
When I rap is like the sun go dark
I discovered hidden flows tell me who the fuck is mungo park?!
White supremacist shht, uncle park
You talking to a black king with a disgruntled heart
My nigga king!
For instance, only got the grind in my system
Many water pass wey for drown me
Nothing shake the strength of a black man, (black man) in in me
Blood of my forefathers in me
Steady chasing that paper daily
Orisirisi many dey be trying
But odeshi dey for my black skin
You see the young King, odeshi dey for my black skin,
You see the young Queen, odeshi dey for my black skin
Vector – "Crown Of Clay LYRICS" ft. MI Abaga, Pheelz