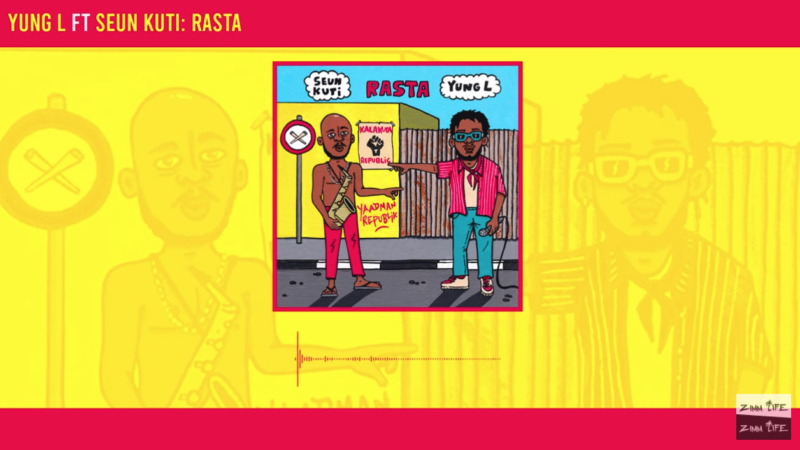 Yung L releases a new music video which contains the track 'Rasta' featuring Seun Kuti and also 'Puna'… Enjoy!
Mr Marley – Yung L tops the game a new music creative visuals by combining two Afrobeat tracks (RASTA featuring Seun Kuti & PUNA) inna one video. The music video you about to Enjoy below was shot in Fela's Afrika-Shrine at Ikeja, Lagos by TG OMORI (boy_director) and it features Seun Kuti and some Afrobeat ladies & Dancers.
Watch the Official Video for Rasta/Puna by Yung L off his album, Yaadam Kingsize.
RASTA LYRICS
One, one Yaadman
One, one Rasta
On the low
All my guys
We dey flex
One time
CHORUS
Rasta!
Who thief my lighter
My herbs and Ganja
I smell am for outside
Kalakuta
Rasta!
Who thief my lighter_ Rasta
My herbs and Ganja- Rasta
I smell am for that side- You be Rasta
Kalakuta- You be Rasta
VERSE 1
Yaadman mana I dey my element
Everyday we get give dem merriment
Rasta say e thief my Indo
Who ah go call I no fit call Popo
On a low
Boys dem baza pon a low
Ebelebe dem burn Gelato
Thief my pack and e follow window
Only only Jah know
Make me holla say
Rasta!
Who thief my lighter
My herbs and Ganja
I smell am for outside
Kalakuta
Rasta!
Who thief my lighter_ Rasta
My herbs and Ganja- Rasta
I smell am for that side- You be Rasta
Kalakuta- You be Rasta
(Sax plays)
Rasta- Who thief my lighter
My herbs and Ganja
I smell am for outside
Kalakuta
Rasta- Who thief my lighter
My herbs and Ganja
I smell am for that side
Kalakuta