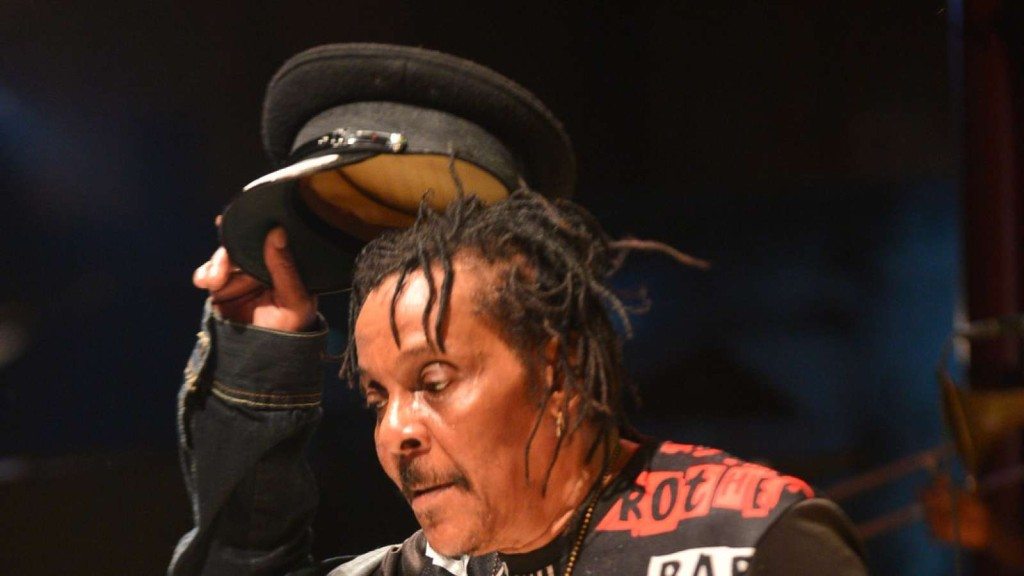 If we are to list the legends that stormed the music scene alongside Fela Kuti, Oliver De Coque, Ras Kimono, and the likes, the name Majek Fashek can never be left out.
Majekodunmi Fasheke, the Nigerian singer, songwriter, and guitarist born in February 1963 is a music icon that deserves accolades for his enormous contribution to the Nigerian music industry. Also known as The Rainmaker, he worked with various artists worldwide including Tracy Chapman, Jimmy Cliff, Michael Jackson, Snoop Dogg, and Beyoncé.
Majek Fashek was born in Benin City to an Edo Old Bendel State mother and an Ijesha father but identifies with his Benin roots. After his parents separated Fashek remained in Benin City with his mother, and soon joined the choir in his local Aladura church and learned to play the trumpet and guitar whilst composing songs for the choir.
In the early eighties Fashek, who at the time went by the stage name Rajesh Kanal, joined the group Jastix with musicians McRoy Gregg and Black Rice. However, in 1988, the singer split from the group to make his debut as a solo artiste.  The singer rose to prominence that same year after the release of his smashing hit 'Send Down the Rain'. The classic song was a part of Majek Fashek's debut album 'Prisoner of Conscience'. Unfortunately, the Reggae legend died at age 57 on the 1st of June after battling an undisclosed illness.
Today, we will be taking a look at 5 Hit songs from the music icon that can never be forgotten. These songs have immensely contributed to the growth of music in Nigeria till date.
"Send Down The Rain"
Majek's success story is incomplete without this track. This is an iconic evergreen track that brings makes the memory of the singer fresher in one's mind. Even those the people of this generation can attest to the greatness of this track. Off his critically acclaimed album "'Prisoner of Conscience", the song earned him the nickname the rainmaker.
Legend also has it that due to the popularity of this song at the time of its release, it rained heavily in Nigeria. Some say Nigeria had not experienced such an amount of rainfall in a while that year. Even on the day if his death, it rained cats and dogs which hadn't occurred in a very long time.
"Redemption Song"
This is a track song that has managed to stay relevant in the hearts and playlist of reggae music lovers to date. "Redemption Song talked solely about Freedom and Redemption. It charged people to free themselves from mental slavery.
"Holy Spirt"
Being a very spiritual person, 'Holy Spirit' revealed his spiritual and humane side as he preached love, unity, and brotherhood. It's a soul-lifting song, heavily inspired by Biblical scriptures, where Majek prophesied about 'Eldorado', a future where humanity lives in peace and harmony. This classic song was revamped by a new generation of music enthusiasts in 2006 when he recorded a remix that featured legendary singer 2Baba which was was titled 'No More Sorrow'.
"So Long Too Long"
Another evergreen reggae track that is a must mention was released in the '90s has still found its way to stay on the playlist of many music lovers. So long is a track by the icon that preached unity, telling Africans to arise from their sleep and told them that they have many works to be done. It conveyed a political and pan-African message which earned him critical acclaim beyond the shores of Africa.
"I Come From The Ghetto"
In "I Come From The Ghetto",  Majek spoke about his humble background as he told his grass to grace story. The track gives a glimpse into his life's story. He narrated the inspiring story of how he survived in the ghetto and streets before making it big in the Nigerian music industry.

"We Can Never Forget These 5 Hit Songs From Majek Fashek "The Rainmaker"", 5 out of 5 based on 11 ratings.
---