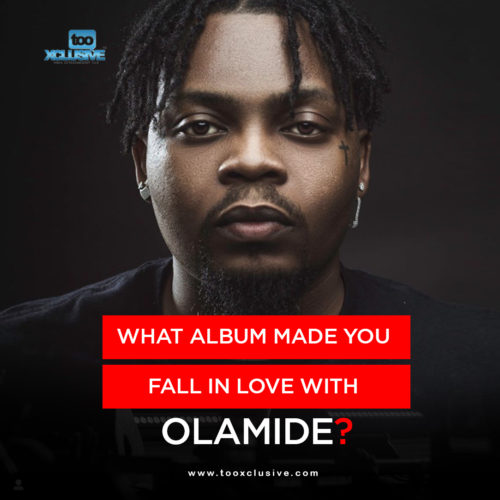 Olamide Adedeji, legendary Nigerian multi-talented and controversial rap artiste, popularly known as Baddosneh [King Of The Street] will be dropping his 9th studio Album today, 10th of February, 2020. His fans didn't get any body of work from the Rap General last year thus made many tasty for his new project and tracks. Before the wide circulation of his new 9th studio album titled "999" we would love to know with this article which 1 album out of his present 8 made you love Olamide (Baddo).
Being a decade in the music industry with a lot of recognition and hard work, just like the saying; ''Give honor to whom is due''. Olamide is one of the artistes which cannot be overlooked when it comes to hard work and good music with good lyrics, bagging several awards and nominations. Dropping album relentlessly back to back, well known for his yearly ritual of 1 album a year. I think that man really deserves some accolades serving his fans with a good body of work year by year.
Olamide has always been consistent since the day he stepped into Limelight. This has really enticed the writer to takes you through the journey of each body of work released by the King Of The Street.
Just like he said when he was asked why he had chosen music, In 2000, he said: "I found out I was gifted in it so I had to explore it. It's my life, my hustle, my world". Truly Olamide got music in him that why he gave us hit back to back from the first day he was introduced into the industry. He has really been focus, consistent and committed which has really made him becomes successful in music.
Listed below are the body of works he has released so far in a short review. But before his albums (Body of Works) Lets quickly glance through how it all started;
Olamide was signed to ID Cabasa's Coded Tunes record label In 2010, released 'Eni Duro' which was received nationwide critical acclaim and instantly shot him to the limelight. In 2012, he left Coded Tunes and started his own record label YBNL Nation. Gbam! Here comes the beginning of his success till date
Olamide's first debut album 'Rapsodi' was released in 2011 under the imprints of Coded Tunes which enclosed 16 Solid hit tracks. Its lead single "Omo To Shan" charted on several radio stations in Lagos and across Nigeria.
The album features the likes of Pheelz, Wizkid, 9ice, Reminisce, I.D Cabasa, 2Phat, Adol, Ab1, Jumoke, Lord of Ajasa, B-Rank, Soul Joe, and Terry Da Rapman. It was nominated for Best Rap Album at The Headies 2012.
King BaddoSneh's second studio album was said to be 'YBNL' [Yahoo Boy No Laptop] which houses 20 hit tracks, released on November 12, 2012, given the production reference from Tyrone, Samklef, 2 Kriss, Pheelz and ID Cabasa. The album features guest appearances from Davido, Tiwa Savage, Kayswitch, Dammy Krane, Reminisce, Samklef, Buckwylla, Minus 2 and Base One. It was also supported by the singles "Ilefo Illuminati", "First of All", "Stupid Love" and "Voice of the Street".
Baddest Guy Ever Liveth [2013]
'Baddest Guy Ever Liveth' [BGEL], the third studio album by Olamide, enclosed 21 tracks in number. The album was initially slated for release on October 14, 2013. However, its release was postponed due to the respect Olamide has for Samklef. He tweeted, "Don't compete with your homies. Make money with your homies. Due to the respect and love I have for my homie Samklef, I'm holding my album back. Let's support Samklef."
Notwithstanding, It was set ablaze on November 7, 2013, by YBNL Nation. Olamide recorded the album between 2012 and 2013 and enlisted the likes of Pheelz, Buckwyla, Ketchup, Ice Prince, Pepenazi, Endia, Viktoh, B.Banks, Phyno, Pele Pele and Bez as guest artists on it. Pheelz was given all the production credit of the body of work except for the thirteenth track "Sitting on the Throne".
Baddest Guy Ever Liveth was supported by four singles: "Durosoke", "Turn Up", "Yemi My Lover" and "Eleda Mi O". It won Best Album of the Year at the 2014 Nigeria Entertainment Awards, and was nominated for Rap Album of the Year at the 2014 City People Entertainment Awards. It won Best Rap Album and Album of the Year at The Headies 2014.
Olamide dropped his fourth studio album tagged 'Street OT', released on November 14, 2014 through YBNL Nation having 22 pieces of work in number. Preceded by the singles titled "Story For The Gods" and "Goons Mi", features guest appearances from Pasuma, Lil Kesh, Chinko Ekun, Phyno, Don Jazzy, and Reminisce. Its productions were handled by Pheelz, B-Banks and Young Jonn.
The ideology of the title of the album is to glorify and show his love for the "Streets".
Baddo released his fifth studio album on 23 November 2015 under his self-owned record label, YBNL Nation with studio production from Pheelz, Young Jonn, B Banks and I.D. Cabasa. The album which enclosed a solid number of 21 hit tracks serves as the follow up to '2 Kings', a collaborative album by Olamide and Phyno. This 5th studio album has the following hit songs; "Eyan Mayweather", "Don't Stop", "Lagos Boys", "Melo Melo" and "Bobo" among others
"The Glory" is Nigerian rapper, Olamide's 6th studio album released on 26 December 2016 under YBNL Nation. The album is a 16-track project that features guest appearances from Akuchi, Davolee, Sossick, Burna Boy, Phyno and Wande Coal and the likes. It was nominated at the Headies Award for Best Rap Album in 2017.
The album houses hits like; "Letter To Milli", "Journey Of A Thousand Miles", "Pepper Dem Gang", "Owo Blow" and "Who You Epp?".
Olamide's 7th studio album was released on 17th November 2017 after so much anticipation from music fans. The album houses 17 tracks in number, which features the likes of Reminisce, Timaya, Phyno and Tiwa Savage. The entire album was engineered by the talented ace producer, Young John except for track 13, which was produced by Olamide himself, guess here was the first appearance of BaddoSneh being a producer. This album was also said to have been record under 48hrs.
Just like the saying; Its not over until it's over. This was just the perfect quote from Baddo to his music fans. Just when fans started to wonder if 2018 will be the first year we'd go without an Olamide album, Olamide shocked everyone with a collaborative album featuring all of members of his label and tagged it "YBNL Mafia Family". The album said to be his 8th was released in the early hours of Friday, December 14, 2018.
The album houses 13 solid tracks done by Olamide, DJ Enimoney, Limerick, Temmie Ovwasa, Picazo, Fire Boy, Yomi Blaze with additional collaboration from Kizz Daniel, LK Kuddy, Kranium, and Lil Kesh. It features pre-released Olamide hit singles, "Poverty Die" and "Motigbana".
Pheelz, Killertunes, Cracker Mallo and 2Kris all got credits for the production on the album.
Now over to you guys, which of the above listed Olamide albums is your favourite… The one that made you love him totally and placed him as your ultimate artiste.
Drop your take and choice in the comment section below…
---