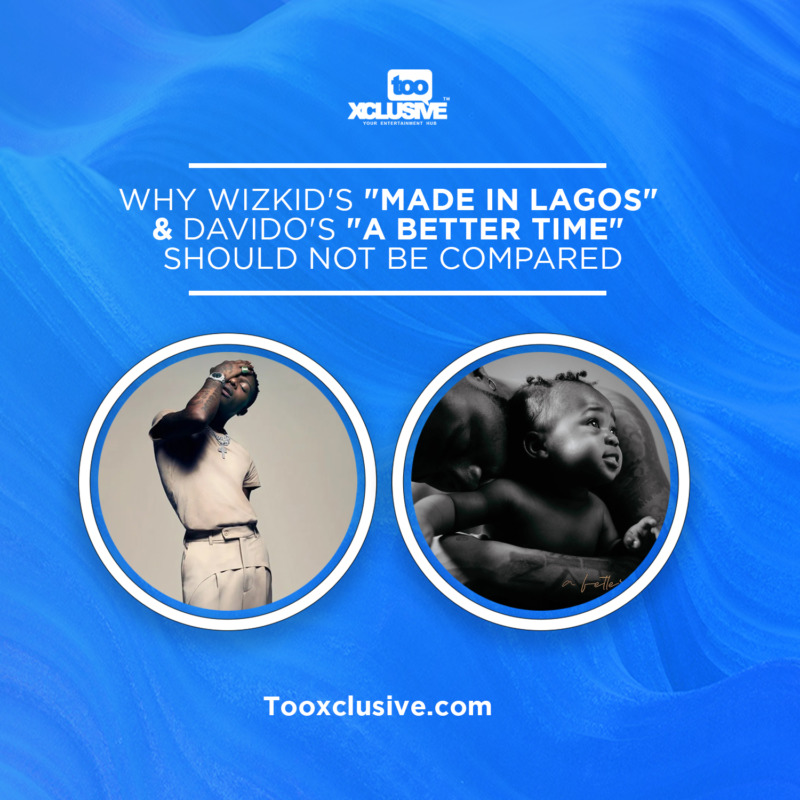 There's a "Made In Lagos" vs "A Better Time"' feud happening between the Wizkid FC and the 3oBG on social media for some while now. Since Wizkid and Davido released their albums, the argument of who is a better artist became the number one topic, and with the way things are at the moment, it's probably going to last for another decade.
However, critically looking at both albums ('Made In Lagos' & 'A Better Time'), it would be discovered that both albums are amazing and unique in their own way and it is very important to understand that they should not be compared.
In this article, we would be analyzing both albums based on Lyrics, Production, Sound, and Direction. 
Production/Sound
On "Made In Lagos," Wizkid promotes culture and globalization with tracks containing themes of love, peace, goodwill, and grace. It is filled with rich tunes ranging from his regular but unique Afrobeat, Jazz, Calypso/Carrabien vibes, Raggae and has production credits from the likes of
Blaq Jerzee, Honter, Juls, Kill September, Kofo, Legendury Beatz, P2J, Saint Mino, Sammy Made It & Sarz.
Also, merely seeing the names of the featured artistes gives an insight into what your ears about to hear. The 14 track album has appearances from Burna Boy, Terri, Tems, Tay Iwar, Projexx Ella Mai, H.E. R, Skepta, Damian Marley and these are people that like to keep it calm while making music. Nothing serious, just pure slow vibes.
"A Better Time" on the other hand, has Pop, a little of Jazz & Rap, Afrobeat and Amapiano vibes with production credits from BlaiseBeatz, Chillz (Producer), David 'Dante' Okiti, El Jack, Fresh, Fresh_VDM, Hit-Boy, Issac 'Masterdon' Azeez, Kiddominant, LordSky, Magicboi, Napji, Papamitrou, Semzibeatz., SperoacHBeatz & Xander (US).
The featured guests, Bella Shmurda, Chris Brown, CKay, Hit-Boy, Lil Baby, Mayorkun, Mugeez, Nas, Nicki Minaj, Sauti Sol, Sho Madjozi, Tiwa Savage & Young Thug, are people you would turn to for party bangers.
Lyrics
When it comes to lyrics, Wizkid and Davido, you could say they are slightly on the same track, after all, it's all money, love, women, and partying but, hey, there's a huge difference.
Wizkid's love is unmatched, and his approach to love and women is unlike that of Davido. Wizkid is your typical "Yoruba Demon" that goes straight for wants he wants with a woman, no beating around the bush. He gives off the "if you're not ready to get down with me, you can aw well leave me alone" vibe. 
This charisma and vibe are what probably got him popular among the ladies, and this is clearly seen in the tracks  "Ginger," which features Burna Boy, "Mighty Wine," "No Stress," "Piece Of Me," "True Love," "Roma," "Sweet One." The lyrics are all about going to bed with a hottie and making babies. 
On "No Stress," Wizkid goes raw about wanting to make his woman feel alright "Dey make her feel alright now (yeah), Girl, your body callin' me right now, Girl, so me need to say my mind now, Make you suck, make I fuck, Baby right now, I've been waitin' for tonight, night-night, When the energy feels right, right-right"
Asides from singing about wanting to get down with a woman, Wizkid certainly has a way of appreciating the beauty of life. "Essence" which features Tems might be a tad bit sexual, but it's really about appreciating a woman and the love she gives to him. On "Smile" which features Grammy-winning American singer, H.E.R, Wizkid appreciates the beauty of one's smile with incredible songwriting. Although its video may seem like a tribute to his children, Bolu, Ayo, and Zion, and mentors, Banky W and Tunde Demuren, the message of the track is all about positivity, and one can help marvel at the beauty and peace of the art Wizkid created. 
From being that little lad from the streets of Shitta, to selling out the O2 Arena twice, Wizkid certainly has come a long way in his music career. One thing Wizkid doesn't fail to do is to give gratitude to his maker, and this is seen in tracks like "Reckless," "Grace," and "Blessed". "Blessed" which features Jamaican singer, Damian Marley is a fantastic record that sees Wizkid sing about how everything is God's doing not by his power and he is living a life free of pride just working hard and at this point he seems not to be chasing the money but the money chasing him. 
Davido, on the other hand, has always kept it safe when it comes to singing about his love for women. He has a softer approach towards singing about love and relationships. Davido is the guy that goes all the way for a woman; he takes his time, makes her feel like a queen, and stays with her for life. No shade to Wizkid here but it is what it is, at least that's what his music depicts.
Davido has a couple of lover boy vibes on "A Better Time", and this is seen in "Jowo," "Very Special," "Heaven," "Sunlight," "So Crazy," which features American rapper, Lil Baby, "Fade" featuring Bella Shmurda and "Holy Ground" which features Nicki Minaj. As for appreciation, the one track on his album that comes close is "I Got A Friend". It's quite similar to that of Mayorkun's "Geng" as all he did was to the hype and appreciate his friends.

Narrative/Description 
Unlike his other albums that are filled with party bangers because really you wouldn't want to mess with his discography filled with hits, Wizkid's "Made In Lagos" is filled with cool and slow but matured vibes. It is evident that he has evolved as a person and as an artist. For Wizkid, the album is more than a project but a statement and the start of a new era. It's also his way of paying homage to his roots, the streets of Lagos.  For Davido, it's all about having a better time, been better than good and also the celebration of his son. The album has tracked about women, friends, money, dance, and of course partying. He also made sure of recording more Hit! than ever.
With this breakdown, it is crystal clear that both albums have different directions and content, so making comparisons is unnecessary.
On an ending note, both singers have different personalities, and this is clearly exhibited in "Made In Lagos" and "A Better Time". Wizkid is the no stress guy that wants to make music, chill, and make loads of cash while Davido is the bubbly, always happy guy, the life of the party. If you want bad/lover boy vibes, your guy is Wizkid and if you want party bangers vibes, link up with Davido.
It's just like comparing Rema and Fireboy, but we're not going to have that argument here.

"Why Wizkid's "Made In Lagos" & Davido's "A Better Time" Should Not Be Compared", 3 out of 5 based on 60 ratings.
---