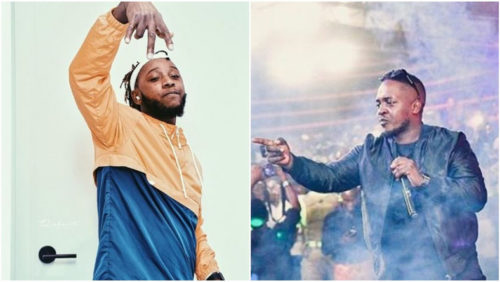 Nigerian rapper, Yung6ix has been called out by fans for doing the same thing he accused fellow rapper, MI of.
Yung6ix earlier today called out MI Abaga for not supporting his music career. According to him, MI refused to help promote one of their tracks together and all efforts for him to do so proved abortive. The rapper added that he still enjoys MI's music but every bit of respect he has for him is all gone.
However, Twitter users have responded to the rapper's claims and criticized him for calling out MI in such a manner. They also accused him of not supporting other artistes in the industry.
See the tweets below:
M been on this Bs since 2014 yo. It's half a decade of mumu doinz, after sending a series of his Unblown artiste to diss me. He promotes the records and tries to use me as bait to gain clout for them because he knows the outcome of coming at me ?. https://t.co/tuFBqpmbKJ

— BODY ? LINK IN BIO (@Yung6ix) January 23, 2020
Will you support your favs when you are a part of their success ? Yes but not M.I all that tweet about favorites where political tweets about the fastest growing rapper in 2010/2011. It's two different times "Prospect" and "Threats" https://t.co/GXG732B9Se

— BODY ? LINK IN BIO (@Yung6ix) January 23, 2020
Like I haven't. I'm not your average Nigerian artiste. I may not be perfect but everything I do is well thought off and planned. M thinks he can outsmart people when it's not even necessary. This is real life everybody is tryna win. Him cup don full for this side. https://t.co/3tJJCS79Np

— BODY ? LINK IN BIO (@Yung6ix) January 23, 2020
It ain't 2007 bruh. These streets ain't Safe anymore. It's Trapfro season now. We in control now. These OG's either change or Fade. Na Too much respect when we show them naem make these S.A rappers dey get mouth self. https://t.co/YE7s0W0ezF

— BODY ? LINK IN BIO (@Yung6ix) January 23, 2020
So you feel say I never call am or you nor calculate reach there ? https://t.co/cjRQDSZY6N

— BODY ? LINK IN BIO (@Yung6ix) January 23, 2020