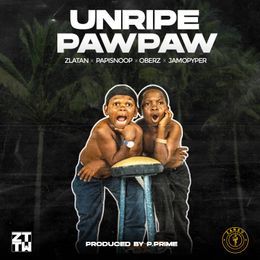 Finally Zanku Records releases the highly anticipated song that has been trending on social media before its official release, 'Unripe Pawpaw' by Zlatan and his team.
Zanku To The World (ZTTW) pioneer, Zlatan releases a new banging joint titled "Unripe Pawpaw". To deliver this Zanku/Gbeku tune he joins forces with his zanku gang, Papisnoop, Oberz and Jamopyper. P-Prime produced is new Gbedu! You about to get wild with this tune with Crazy Dance
"Unripe Pawpaw" is a follow up to Zlatan's debut single, 'Quilox' under the Zanku Records. Most fans on social media are already reacting to this new virus, it's out official to rock the street. You about to catch this Fever… 'Po piriti temote te popo popiripipo unripe paw paw mote'
Listen and Enjoy!
CLICK HERE For 'Unripe PawPaw' LYRICS