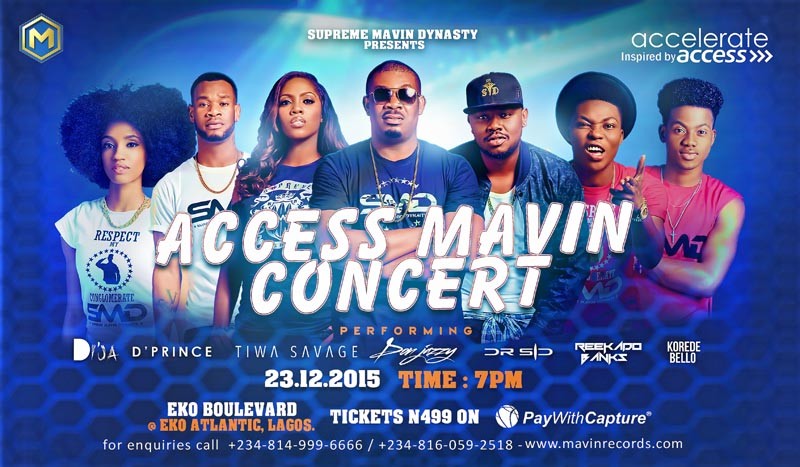 We're just a day away from the Access Mavin concert holding at the improved Eko Boulevard.
Still undecided? Still unsure? You want to attend but you don't have so much cash at hand?
Take a look at these five reasons why you should attend.
1. It's the first ever Mavin concert in Lagos
For this reason alone, you don't want to miss neither do you want to be told about the concert. Since it's formation in 2012, the Mavin crew have performed around the world but they've brought it home this time around. It's definitely going to be electrifying.
2. It's a one of a kind concert
The days of buying tables are nearing the end, as the Mavin concert is set to be a leveler. We also heard that there is going to be a cocktail bar. Now isn't that just impressive!
3. First time 'in a minute' that all the Mavins will perform under one roof
For a while now the Mavins have not performed together due to varying reasons but on December 23, the entire crew will be present to perform hits like Dorobucci and Jantamanta. Who knows, they might just announce a joint album? We always expect surprises from the Mavins.
4. Tiwa Savage's R.E.D performance
After going off the scene to have her baby, Tiwa surprised us with a new album titled R.E.D which has already been released on Music+. The singer will perform some of the songs on the record. Another reason why the concert should not be missed.
5. It is just 499 Naira!
The ticket price is just 499 Naira and you can get it from the comfort of your mobile phone courtesy the revolutionary PayWithCapture payment solution. The combination of a cheap entry price and a quality music concert is rarely heard of but thanks to Access Bank who are powering the event, this is now a reality.
PS:
There are other available ticketing points online but if you are of little faith, you could purchase your tickets at any Access Bank branch.
This post first appeared on YNaija.com