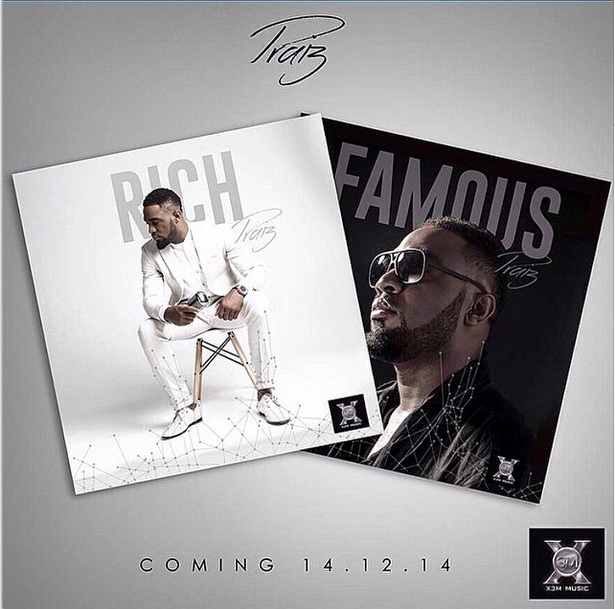 Artist – Praiz
Album – Rich & Famous
Features – Wanda Baloyi, Sammy, King, Wizkid, Patoranking, Iyanya, Awilo Logomba, Chidinma, Shaydee, Seyi Shay, Bez, Sound Sultan, Kayswitch, Skales, Morell, Iceberg Slim
Producers – Wole Oni, Wilson Joel, GospelOnDaBeatz, Cobhams Asuquo, Praiz, TK, DJ Coublon, Password, Dekumzy, Oscar, DeeVee
Label – X3M
Running Time – 1 hour 42 minutes
Praiz' intent was never to do music. He wanted to play Football and ascend to the reigns of a decorated international star but fate dealt him a twist when he would later find himself pitched against bosom friend Iyanya, contesting for first place at the debut edition of Africa's biggest talent hunt, MTN Projectfame in 2008. Although he placed at the first runner-up position, he remained undeterred and kept pushing the envelope in an art that he'd found solace. Six years and like almost a dozen singles after, Rich & Famous was unveiled. A 2-in-1 piece in the form of a debut LP culled from many sleepless nights, dints of hardwork, pleasurable sweat and sheer excitement. As singer/songwriter and music producer, Praiz set no bounds to his versatility. Having attained plenty revere for his impeccably stylish vocals that have been tied to a particular genre, he chose to explore new terrain by casting his net in unfamiliar waters with nothing but a strong heart and really big, high hopes of a desired expectation.
Rich is the section of the album that defines Praiz. The nature of his velvety tenor and musical choices (in the past) never allowed us peg him for the type to exude right in the commercial category of afro-popular songs. But how could we when he'd slayed songs like his cover version of Rihanna's Stay and the unforgettable Rich & Famous. I think you get my point. Leading the LP – Rich, is A Woman's Need. The very melodious and vocally stylish R&B acoustic tune describes a good man who's a work in progress, as what every woman needs. It was written far back as 2008 during his days at the Projectfame Academy. Praiz goes on to sampling R&B of the early 90's on I Miss You and If I Fall, lacing his vocals with ease and emotion. The dub-step feel was introduced on Want You and had King sounding like Banky W in his new rap dispensation. Super Hero enjoys undulating percussion beats and a futuristic touch as he stretches his vocals to the zeniths of his falsetto range. It aligned perfectly with his thoughts on the lengths he's willing to go just to keep being there for 'the one'.
Addicted equally has Praiz doing the crescendo only that it has a bit of afro influence and the instrumental riffs created an ascending pattern. Heart Beat, Loosing It and Can't Let Go are mid-tempo tunes with a suave rhythmic feel. The latter has elements of an instrumental nature from Jennifer Hudson's breakout single Spotlight as with the impressive effort on adlibs just like hers too. On a much slower note, there's Amazing – very emotion-laden tune that erupts sparky feelings of baby making in opposite sexes. Sammy (Praiz' protégé) proves his mentor's worth when he shines for well over two minutes on his vocal cut for Lost In You. The reprise to Show Me The Way wraps up the Rich disc and should be better appreciated for it's musical aesthetics as against the Wanda Baloyi-featured pop-esque version. The electro sounds especially on the instrumental riffs literally finished work on the reprise.
Famous becomes the playing ground upon which Praiz tested the strengths in his versatility on other genres. While you might agree that there's something in the offing with makossa or anything inspired by it for Praiz, indigenous pop (of an afro descent) or afrobeats in itself is a lot tougher to deal because it takes more than just a silky smooth voice to get people to move. Which is why joining forces with Wizkid on Sisi was a smart move. It's a blend of vocal swag and attitude that puts Praiz in appeal of a new fan base. The DJ Coublon-produced Pere is another of the LP favourites. Having wired sharp makossa elements in the production, Praiz and Iyanya's gibberish-styled lyrics added a dynamic flow but in an unusual way because they're kinda hard to decipher. Still, we gon' jam it. Picking up pace would be the makossa flavoured tracks; Oshe, Sweet Potato and well Mercy (of a more subtle but contemporary nature). Awilo's feature on Oshe impressed a true soukous feel while Chidinma's vocal pitches on Sweet Potato are the track's very memorable moments. These two songs are some of Praiz' underrated tracks that show off his applaudable production skills. By recognizing talent, he puts Shaydee on I No Use You Play. Shaydee in my opinion, is one of the industry's underrated acts. The kid's got a voice. And he obviously wasn't using it to play on Praiz' record. For You was released in 2012 and since that time, even local content music has evolved. Praiz and Seyi Shay should have remade the track even though Ms Shay no doubt, has one of the most beautiful voices on planet earth and knows just how to use it to appropriation.
The best of Praiz' vocal offerings would be Afurum Gi N'anya, which I think belonged on the Rich tracklist. Praiz shines with stellar vocals, pitches that almost hit the zenith of his range and smooth transitions into his falsetto register. The order of vocal dexterity shown here is typically what some of us vocalists would refer to as 'pride'. Beautiful love song! Delilah samples an Arabic music theme but Praiz failed to run them Arabic scales. Kayswitch made up with his playful vocal runs that included licks with staccato and some scathing. Deevee's production is so nice that the beats get you to move while the melodies induce a subliminal image of a fair-skinned and sexy temptress. Going off the LP's love theme, Physical Something is a song that decries the society's state of affairs. Praiz and Bez try some of their verse lines using vernacular vocabs (which sounded like me speaking pidgin… lol!) thankfully, Sound Sultan pulls a redeeming act to save cover. Harder is the least memorable of the tracks. It's seemingly implausible considering Patoranking was on the track but I guess that was the result of both acts deciding to do a collabo and at whatever cost necessary. Regardless, they had a decent outing while at it. Jalabia & Snapbacks originally is a fashion trend made common in the upper west side by northern descents. Praiz turned it into a worthy tribute by calling on his KD brother Skales, Iceberg Slim, King and Morell to do the track fitting justice. Iceberg Slim and Skales who opts for his rap persona this time, both slay the track with impressive contemporary verses. Morell does a spectacular indigenous rap take while King's closing verse packed the hardest punch, pulling all the score points.
This debut, Rich & Famous is long and exhaustive. In the same vein, it is both simple and sophisticated, benign and avant-garde at the same time. The arrangement is on-point directional and lives up to the desired trend for a love-themed album. Although, one would have wished that Praiz sought a redress on some of the choices that made the LP, they're some of the traits that describe his unstereotypical artistic nature. To advance our perception past 'the' R&B artiste we've pegged him to be, it'll take a little more than the level of dynamism he's shown. Notwithstanding, unlike the many other artistes who attribute their singing prowess to an in-born nature, Praiz is a natural who's got a whole lot more to prove but necessarily nothing to fuss about.
Rating – 3/5


Reviewed by Jim Donnett
@jimancipation
---