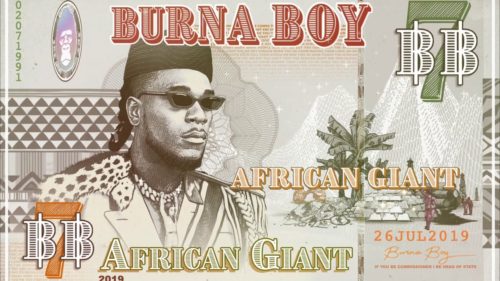 Burna boy has made himself a household name in the Nigerian music industry especially with his spontaneous rise to fame in the year 2018 which was a good year for him especially with the release of his outside album earlier in 2018.  Many people stumbled on that album mistakenly while searching for the "YE" album by Kanye west and that kick-started  of an awesome year for Burna boy which he ended with his sold out concert in 2018.
The resolution for 2019 was "this year we are killing dem sha" and honestly speaking Burna boy has done a good job of 'killing' us with awesome songs.
On Friday 26th of July, 2019 while the music industry was fast asleep, he released his album for 2019 which he titles "African giant." The album bothers on Nigeria as a country and how she falls short of the African giant title. The album talks about how corruption has eaten deep into the government of Nigeria and how it is killing the country gradually. In as much as the album talks about governance in Africa, there are still some songs that center on love and affection.
Burna has been able to use his voice as a celebrity to speak against the tyranny of bad governance while giving us a perfect blend of love, fun; this is one thing many Nigerian artistes find difficult doing.
"African giant" is also a song on the album just as it is the name of the album. The song has a nice sound, awesome production, nice vocals. He definitely did justice to this one and picked a perfect intro into the album.
"Anybody" was a follow up to his first single of the year 2019 "dangote" anybody has been a major hit since it release on the 13th of June 2019. The song has a simple message saying anybody refusing to get in the groove "knack am something".
"Wetin man go do" give us the fela vibe; the song talk about how man has to struggle to get almost everything he wants. Basically saying this life is a hustle.
"Dangote" is the song that started the year for Burna boy and it appeared on countdown for weeks, definitely a great song.
"Gumbody" is one song that switched things up, he featured Jorja smith and they gave us an awesome blend of vocals. This song talks about his attraction to a certain lady he watching through his dark shades in the club.
"Killing dem" featuring Zlatan also appeared on the album, it's the hit track he used to end 2018 and also start 2019.
Just like gum body, the song "Omo" talks about an attraction to a female. I see this as a "relief" as it gives us something  to say "awwwwwn" about and present a different story from the album.
"Secret" is also another song which is not the regular love song, in this case Burna boy wants to keep this love affair a secret as it is a forbidden, one maybe.
"Collateral damage", this song just talks or speaks the mind of the masses and talks about how the masses suffer for the corrupt practices of politicians.
"Another story" talks about the Nigerian history and how the country started to decline after the colonial masters. This song has a lot of meaning, Burna boy has shows his lyrical prowess in this one. The message and the sound all combined makes the song an awesome one for me.
"Pull up" is another song like gumbody and others. Favorite part was off "Burna ma kpa mi now" translating to Burna don't kill us now.
""Blak ryno" is a short intro for the song "destiny" which is another soulful song talking about how no one can bring him down and how he is living up to his destiny.
"Gbona" and on the low also appeared on the album. These songs were released after the outside album of 2018 and were also great follow-ups to the album.
"Different", an awesome track which gives a bit of reggae sound and it talks about how different people/individuals are in the society.
"Show and tell" is one of those song i see as album filler, on this song he works with future an American rapper. It sounded like trap music which is definitely not Burna's style so I personally don't see this song as an highlight on the album expresses Burna's music versatilty.
"This side" featuring YG talks about life and how things are with him and how he lives on his 'side'.
"Spiritual" has a message from Burna which he used to wrap up the album. He says "every black person should always remember that they were first Africans before they became anything else".
In summary, the album is nothing but spectacular. Burna boy has proven himself to be one if the few artistes who can take over from the legend Fela.
Written by Aishat Ibrahim 
Instagram: qwin_aisha