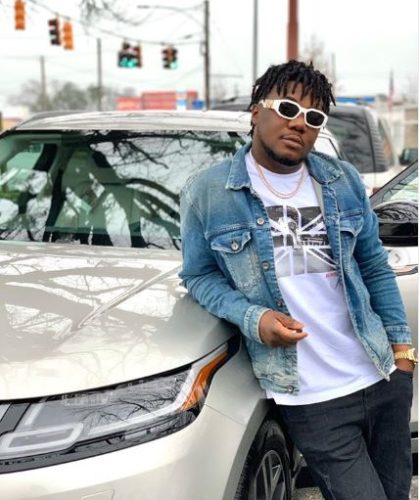 Sensational rapper, CDQ has slammed son to popular politician Seyi Tinubu for disrespecting him at Davido's house.

The rapper took to his Twitter page to call out Seyi for treating him in a shabby manner while they hung out at Davido's house. Although he did not state what exactly Seyi did to him, CDQ appears to be quite irate as he vowed not to let it slide. In his words: "Seyi Tinubu I'm bouta compose an article for you about what you did to me last night @ David's house. I might not be born with a silver spoon like you but bruh I'm a fighter and a strong hustler that germinated from the slum to where I am today. I won't take disrespect from anyone
I've always been a free spirit, good vibe n neutral person from day0 irrespective of where I am or who I'm with… so I'm the least person u should mess up it… cos things don't get to me easily. But when it hit it hits hard Man gesturing not ok so I'm never going to let this slide Seyi.
If u have been doing this to people around u before this will be d last time… cos I no be artist wey Dey pursue politician for money… anything I do with people I do it for love. I hustle hard for everything I am today. I'll still post What he did n I'll say it on National TV Television Nigga feels he's above all of us cos ure fortunate to be a powerful man son in this Country… bruh where is the equality of right and where's the independence here Key."
Seyi Tinubu I'm bouta compose an article for you about what you did to me last night @ David's house. I might not be born with silver spoon like you but bruh I'm a fighter and a strong hustler that germinated from the slum to where I am today. I won't take disrespect from anyone

— CDQ (@cdqolowo) October 1, 2020
I've always been a free spirit, good vibe n neutral person from day0 irrespective of where I am or who I'm with… so I'm the least person u should mess up it… cos things don't get to me easily. But when it hit it hits hard ???? so I'm never going to let this slide Seyi

— CDQ (@cdqolowo) October 1, 2020
If u have been doing this to people around u before this will be d last time… cos I no be artist wey Dey pursue politician for money… anything I do with people I do it for love. I hustle hard for everything I am today

— CDQ (@cdqolowo) October 1, 2020