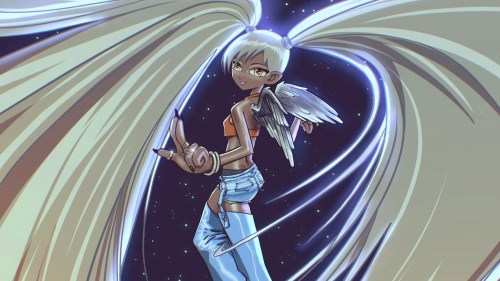 Of course, your faves made the list…
However, we had to reserve the dominating spots for the man of the money, Ololade mi Asake. Also, Wzkid's "Bad To Me" made an appearance on our list for the week.
To find out more, peep the list of hot singles that were released in the month of September.
1. Rush – Ayra Starr
If you're a die-hard fan of Ayra Starr, please come closer. The Fast-rising music star premiered her 2022 debut single "Rush" recently, and it's been all love from her fans.
Rush" was produced by Henri Velasco and Andre Vibez and serves as her first single since the released since the release of her debut album "19 and Dangerous".
The talented Mavin records act confidential brands about her money band and the need to stay on the grind to keep up her status. It's an amazing song, that is bound to keep you locked.
2. Joha – Asake
Oh yes! your faves made our list of songs you should have on your playlist this week. Off his buzzing debut album, Mr. Money With The Vibes – MMWTV, Asake comes through with another one dubbed, Joha.
Joha is currently one of the trending songs on all socials and with a challenge to go with it, courtesy of Asake himself. The track is the 7th on the MMWTV album. Its social media challenge has been jumped on by several of his fans, making the song go more viral.
3. Dupe – Asake
Ololade Mi Asake passed the vibe test with another of his impressive track dubbed, Dupe.
Dupe is a track that urges people to be thankful for what they have. It also urges people to be happy when they see others win, as it will soon be their turn. Finally, the new street king assures his fans that things will be stable soon.
The impressive track is one from Asake's debut album, Mr. Money With The Vibes (MMWTV).
4. Philo – Bella x Omah
Bella Shmurda and Omah Lay link up to premier the amazing track titled, Philo. Philo, according to the track is the lady of the money Bella shared that they are absolutely nothing he wouldn't do for his baby girl, Philo. Omah Lay, on the other hand, describes Philo as his personal "Olosho", adding that he would do whatever she wants for her.
We can only wonder who this Philo is, as it seems like she has both men in a chokehold.
The fast-rising Afrobeat crooner recently made headlines and stirred reactions, after he performed at his U.S concert with a goat on stage.
5. Nzaza – Asake
Still of MMWTV, Asake takes us on a trip down a memory line and speaks about his journey into the limelight. The YBNL signee speaks on the reward of hard work which we can all tell that he now benefits from.
The title of the track "Nzaza" translates to "God bless you".
Lately, Asake has been the talk of the town, as he continues to make headlines on all socials. He even made a grown woman confess to airing his dm back in the day. She absolutely regrets it now.
6. Ototo – Asake
Off the album, MMWTV – Mr. Money With The Vibes, Ololade Mi Asake delivers another thoughtful song dubbed – Ototo, which simply implies (individuality).
Asake tells people to carry their crosses, as everyone came to the world individually and has their crosses to bear as well. However, if you need something to relax your mind, "Ototo" is your plug.
7. Electricity – Pheelz ft Davido
A collaborative effort like this is set to leave you addicted. Pheelz and Davido have come together to dish out this beautiful tune "Electricity". This track serves as a follow-up to "Finesse", his 2022 hit song, where he featured the Headies' 2022 next rated, BNXN.
This song typically encourages positive energy. It preaches that one should live without regret and ignore the negative opinion of others. It's an addictive one but be careful because you just might get electrocuted.
8. Bad To Me
Wizkid made his debut in Amapiano with his critically acclaimed track, "Bad to Me". Ayodeji Balogun, widely known as Wizkid's first single in 2 years. The singer has been constantly busy featuring other artists or getting featured.
With the new song, he takes the Apple Music top 100 by storm, claiming the number 1 spot in just 2 days of its release.
9. Organize – Asake
Still dominating this week's playlist is Asake with another one from MMWTV titled, Organise. This song is a quite deep and thoughtful one.
Asake released a quote that should be framed. It reads "too much wisdom makes a wise man foolish", which he of course sang in Yoruba, but we need to acknowledge him for this. This banger s vibey and should sit gallantly on your playlist this week
10. Call Of Duty – Zinoleesky
If you're a fan of Zino's "Loving you", then you would love this "Call of duty". In the video of this song, zino mimicked the world's best-selling video game franchise.
The Marlins records signee comes through in his usual style with a catchy vibe. As much as, fans are used to a certain vibe from Zinoleesky, they still don't seem to e getting enough.
11. Soweto – Victony
Talented Nigerian singer, Victony comes through with an addictive jam dubbed, Soweto. Soweto was, without a doubt one of the songs that rocked the month of September.
Victony, on this track, speaks to his lady about his love for her. According to the vocalists, he is going crazy for his lady's love. Soweto is the 6th track off Victony's 7-track Ep, Outlaw.