Last Updated on Sep 17, 2022 | 11:15 by Tyler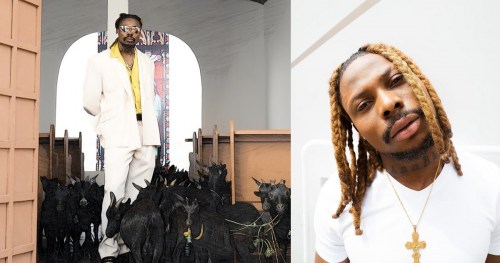 Some of your faves made the list this week…
We are bringing the energy and matching vibes this week. In a bid to achieve that, we have selected a few songs from some of your favorites in the industry to spice up your playlist for the week.
Electricity – Pheelz ft Davido
A collaborative effort like this is set to leave you addicted. Pheelz and Davido have come together to dish out this beautiful tune "Electricity". This track serves as a follow-up to "Finesse", his 2022 hit song, where he featured the Headies' 2022 next rated, BNXN.
This song typically encourages positive energy. It preaches that one should live without regret and ignore the negative opinion of others. It's an addictive one but be careful because you just might get electrocuted.
2. Ototo – Asake
Off the album, MMWTV – Mr. Money With The Vibes, Ololade Mi Asake delivers another thoughtful song dubbed – Ototo, which simply implies (individuality).
Asake tells people to carry their crosses, as everyone came to the world individually and has their crosses to bear as well. However, if you need something to relax your mind, "Ototo" is your plug.
3. Gentleman – Falz
Falz would love his fans to understand that under his comic character, he can also be a sweet and gentle man. The Nigerian lawyer cum entertainer has fans hooked on this banger, "Gentle Man."
What's more interesting is that he created a viral challenge that some of his fans have now jumped on, making the song more vibey. Gentleman is an easily relatable song that depicts the dream of every woman out there.
4. Organise- Asake
Still dominating this week's playlist is Asake with another one from MMWTV titled, Organise. This song is a quite deep and thoughtful one.
Asake released a quote that should be framed. It reads "too much wisdom makes a wise man foolish", which he of course sang in Yoruba, but we need to acknowledge him for this. This banger s vibey and should sit gallantly on your playlist this week.
5. BNXN – Many Ways ft Wizkid
Buju BNXN is here again with a brand new jam, that is busy scattering the charts and airwaves. This song is even more interesting due to Big Wiz's unique touch, and we know how that works.
The talented artists both want their ladies to know that they could make them feel good in "Many ways". The Jules-produced record is a feel-good sound. It is, however, perfect to make your woman feel special. Make sure you add it to your playlist today.
6. Fireboy – Bandana ft Asake
Two YBNL music powerhouses, Asake, and Fire Boy have come through to give their fans a delight dubbed, Bandana. The song could be described as a tribute to 2pac with a sprinkle of street vibe to it.
While Fire Boy reminds both his fans and haters that music chose him, Asake cuts in to let us know that "they never see him coming". This is true because if there's one thing that Asake does well, it is shocking us with good music every time.
It's amazing how both artists delivered brilliantly, without one overshadowing the other. We definitely want to see more of this collaborative effort.
7. BNXN – In My Mind
Okay, it may seem as though lover Boy, Buju has found himself in a fix this time around, as he introduces us to his new track – In My Mind.
The "colors show" produced track is a sensational one where Buju lays down his struggles with his seemingly toxic lover.
Nonetheless, I must warn you about the addictive nature of this track. Also, we learned that this tune is a preview of his forthcoming album, "Bad since 97".
8. Asake – Nzaza
Still of MMWTV, Asake takes us on a trip down a memory line and speaks about his journey into the limelight. The YBNL signee speaks on the reward of hard work which we can all tell that he now benefits from.
The title of the track "Nzaza" translates to "God bless you".
Lately, Asake has been the talk of the town, as he continues to make headlines on all socials. He even made a grown woman confess to airing his dm back in the day. She absolutely regrets it now.
9. Zinoleesky- Call of Duty
If you're a fan of Zino's "Loving you", then you would love this "Call of duty". In the video of this song, zino mimicked the world's best-selling video game franchise.
The Marlins records signee comes through in his usual style with a catchy vibe. As much as, fans are used to a certain vibe from Zino, they still don't seem to e getting enough.